Cycle of life
By Fiona McDonald | 10th April 2019
Almost 20 years ago, the Natural History museum in Cape Town's Company Gardens was an odd choice for the launch of a new wine brand.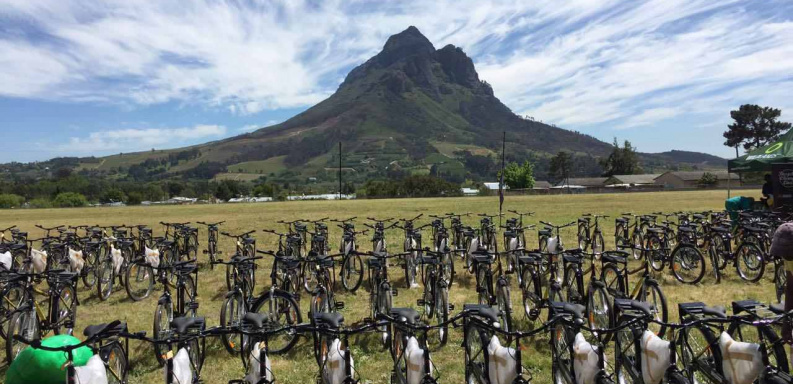 Reyneke was a new operation which was proudly organic, at a time when it was deeply unfashionable to be so, when organics was regarded with not just suspicion but derision. Perhaps the young and passionately idealistic Johan Reyneke was more prescient than most by launching his new wines surrounded by Stone Age implements and dioramas of stuffed beasts like the extinct Quagga. Just two decades on and some of the producers who scoffed at his ideals have realised that their farming methods were heading the way of the dinosaurs...
Now, what was once so commonplace from Upington to Paarl, Robertson and Elgin to the Hemel-en-Aarde valley – the large-scale application of herbicides, fungicides and pesticides – has been scaled back. The planting of cover crops, of making compost with winery debris, wood chips from felled invasive trees, vine clippings and animal manure, in order to promote soil health and retain soil moisture is widespread. Bringing nature, health and vigour back to the vineyards is the goal and it's been surprising how rapidly the change has taken place.
I think of the tales Neethlingshof's De Wet Viljoen tells of the property's vermin problem which was sorted out by planting predator posts in the vineyards to encourage jackal buzzards, owls and hawks to perch and spy their next meal. And how caracal or lynx were also more frequently spotted once the natural order was re-established.
And the sprawling properties of Lourensford and Vergelegen in Somerset West where large-scale invasive trees were felled, allowing nature to re-assert itself. Steve Birch, who worked at Lourensford for 30 years told of how a natural spring emerged, followed rapidly by a wetland with water plants and waterfowl after eucalyptus trees were eradicated. "Not even us old-timers knew there was a spring there!"
The teams clearing the blue gums and Port Jackson trees were also part of the plan, being trained as entrepreneurs in an incubator project. Once trained and sufficiently qualified, they were encouraged to start their own brush clearing and fire prevention businesses, training and upskilling others. The multiplier effect has been significant. As has the awareness of fire prevention and the management of natural areas.
What about the Vondeling team which chronicled the recovery of the Voor Paardeberg after a devastating fire? Having a dedicated botanist on the team led to the discovery of two previously unidentified new species – as well as the most magnificent glossy coffee table book, Fire to Flower: A Chronology After a Wildfire in Fynbos written and photographed by Ruth Garland and Greg Nicholson.
Or Spier, one of the pioneers of the country's well established wine route system so beloved and appreciated by visitors. Their zero waste, farm-to-table philosophy and system of water management through reed beds and the like is cutting edge.
The vertiginous slopes of the Helshoogte and Drakenstein mountains are ideal for mountain biking – something Bartinney's Rose Jordaan has used to best effect. She has personally removed thousands of invasive alien plants and cultivated indigenous alternatives – before realising that the scope of the task could be expanded. So she approached a local school and got the pupils involved in establishing a nursery to propagate fynbos – and sell it back to local farms. Here was a project with multi-pronged benefits: teaching nursery and gardening skills to pupils, encouraging entrepreneurial thinking and raising revenue at the same time, building awareness of conservation – a subject dear to Jordaan's heart.
Not only that but it had the additional benefit of catching the eye of the Qhubeka bicycle project – enabling the pupils involved to qualify for sturdy Qhubeka bikes, enabling them to get to and from school safely and more efficiently. The handover of these bikes to the Kylemore pupils was done by the glamour boys of Dimension Data, South Africa's pro-cycling team which competes on the Tour de France and other top international races!
"I am very aware of our role as custodians of this land," Jordaan says. "I don't want to stop people at the gate because it's "my" land. I want the local community to feel as if they're part of it and can utilise it." Which is why those self same local pupils who are cycle mad are welcome to get to know the trails on Bartinney – and are even used as specialist trail guides when foreign mountain bikers visit to tackle Skyfall and other world-renowned routes. How's that for something coming full circle? And in the past decade, landowners have banded together and established a 3 000-hectare conservancy on the slopes of the Drakenstein mountains too...
And on the topic of Dimension Data: Jeremy Ord, founder of the company, is also the owner of Waterford Estate. When the showpiece property was being developed Kevin Arnold was adamant that local materials be used. The exposed beams on display beneath the tiled verandah in the courtyard? All (invasive) poplar trees felled during vineyard clearing. Waterford takes its visitor offering very seriously and offers a richly textured experience, with a wine safari in the vineyards as well as guided fynbos walks two of the attractions which has seen it rewarded with local and international recognition for its cellardoor offering through the Great Wine Capitals network.
These are but a handful of the stories about wine being involved in improvement of the environment as well as the upliftment of people. There are so many more! The Graham and Rhona Beck skills development centre in Robertson springs to mind, as does the Robertson wine fraternity supporting orphaned children in the Thunderchild project, the wine farmers of Bonnievale who banded together to build an entire high school, the Jakes Gerwel Technical School which opened its doors in 2018.
Crushing grapes and getting the fermented juice in the bottle is only part of the South African wine story. This country's wine tapestry is composed of many interwoven threads and separating the human and natural elements and the dramatic growth in the past two decades is impossible.