Discover Stellenbosch Cabernet Sauvignon with Oz Clarke
By Admin | 15th July 2021
Join Oz Clarke on Wednesday 28th July at 7.30pm for a fascinating virtual tasting as he guides you through a range of Cabernet Sauvignon's from Stellenbosch, one of South Africa's most exciting wine-producing regions. During the online event, he'll be chatting to the winemakers behind each wine and finding out what makes them so special.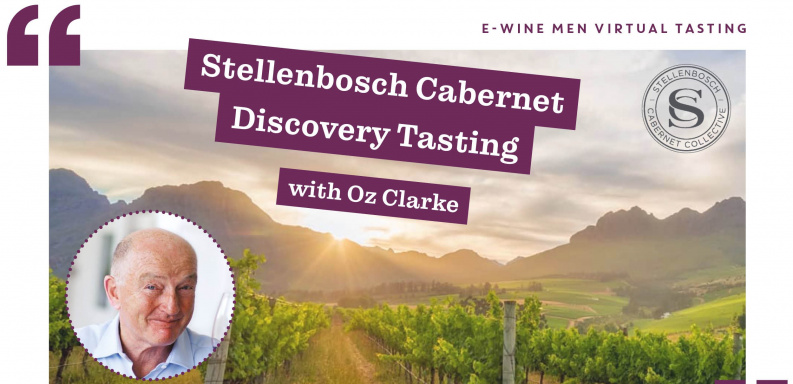 South Africa has a long history with Cabernet Sauvignon, both as a varietal and blended wine, and now features on the international wine stage as a star grape of the country, with many of the top wines coming from Stellenbosch. The mountains, well-drained soils with low vigour and oceanic proximity all play a significant role in this success, producing a style that is unique and expressive of the variety.
"I've tasted through a wide range of wines especially for this event and have selected my six favourites to show off the quality and value of the wines produced in this region – it's clear evidence that Stellenbosch is creating some of the most exciting Cabernets in the world!" says Oz.
Featured Wines:
Laurence Graff Reserve 2017, Delaire Graff Estate
Lady May 2015, Glenelly Estate
Martin Melck Cabernet Sauvignon Family Reserve 2017, Muratie Wine Farm
Waterford Estate Cabernet Sauvignon 2017, Waterford Estate
Kaapzicht Cabernet Sauvignon 2018, Kaapzicht Wine Estate
Kanonkop Kadette Cabernet Sauvignon 2019, Kanonkop Wine Estate
The tasting packs sold out very quickly but you are able to log in and join the webinar. Enjoy learning about Stellenbosch Cabernet Sauvignon and listening to Oz and the winemakers for just £10 per device.