Groot Constantia: a legacy of excellence
By Julia Moore | 2nd October 2019
A number of South African wine estates are family-owned, often having been passed down 5 generations or more. However, this is not the case with Groot Constantia, a jewel in the crown of South Africa's heritage. This magnificent farm is a national treasure that, by a unique parliamentary ruling, is run for the people, by the people, and has managed to glide smoothly over red tape and bureaucracy to still turn a surplus, produce top quality wines and welcome 450 000 visitors each year.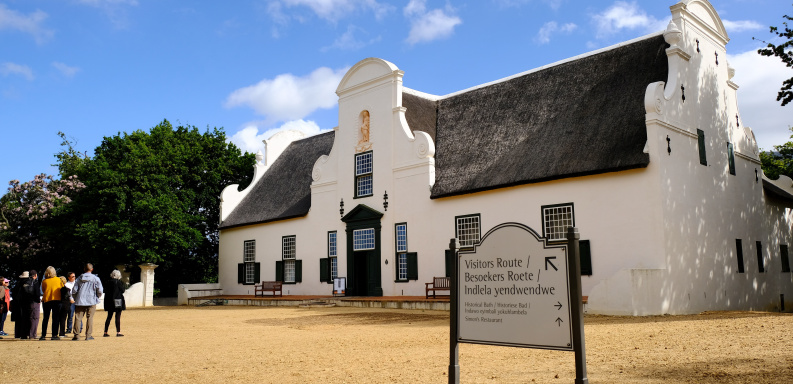 Governor of the Cape Colony Simon van der Stel selected this site to establish his own wine farm in 1685. He was eager to establish wine making at the Cape and subsequently encouraged the French Huguenots to settle here, granting them farms where they could grow vines.
Since then the property has had several illustrious owners, most notably Olof Bergh, a wealthy landowner who married the daughter of a freed slave Anna de Koningh. A legendary beauty and mother of 12 children, she later inherited this prestigious farm upon the death of her husband, quite unusual in those days for a woman to own property, especially the daughter of a slave, and especially such a significant property.
The Cloete family purchased the farm in 1778. The farm remained in the family for 5 generations and it was during this period that it became internationally known as a producer of fine wines. "Constantia Wine" is mentioned in the works of Charles Dickens, Jane Austen and Baudelaire , while the likes of the French King Louise Phillipe and the German Chancellor Otto von Bismarck both ordered the wine in significant quantities. It is perhaps the forlorn figure of Napoleon Bonaparte, living out his sentence on the Island of St Helena after his defeat at the Battle of Waterloo, with little to comfort him except an unending supply of Constantia Wine for himself and his jailors, that most appeals to the imagination.
The Cloete's sadly became bankrupt and the farm was purchased by the government in 1885 due to its historic value and reputation as a producer of excellent wines.
The property was run as an experimental farm for the following century without much success but in 1993, a landmark development in Parliament transferred it into a non-profit company answerable to a board of directors representing the wine industry, heritage, agriculture and the surrounding residents.
The current chairman is Dr Ernest Messina, historian, businessman and philanthropist while the rest of the board is made up of farmers, academics and business professionals who donate their time and energy to conserve and develop this dynamic tourist destination and heritage site.
A walk around this beautiful place will quickly prove why Groot Constantia is rated one of Cape Town's Big 6 tourist destinations. It is a vibrant, beautiful space where visitors flock to taste winemaker Boela Gerber's fine wines, sample typical Cape cuisine and interact with the beautiful, historic space.
"Here we celebrate this piece of African soil that came into the hands of a succession of able people" explains GM Jean Naude. "Through the centuries, significant people have invested heavily here to build it into a place of world renown. We don't brag about the famous customers of Groot Constantia, we brag about the consistent quality of our offering that attracted the attention of these customers. It is not their greatness we celebrate, but our African achievement."
- Julia Moore