Journey's End Foundation provides over 500,000 meals to the local community
By Admin | 15th July 2021
The Journey's End Foundation was set up in August 2020 largely as a result of the Covid-19 pandemic to help tackle worsening hunger and poverty in the Helderberg region of South Africa. Managing director of Journey's End Wine Estate, Rollo Gabb, and his team initially set out to provide 10,000 meals per week for 12 months through the Journey's End Foundation. Ten months on, the Foundation is now serving over 20,000 meals a week and has now provided 549,162 meals to date.
Not only has the Foundation surpassed the remarkable milestone of providing over 500,000 meals to their local community but it is now aiming to serve up one million meals by the end of 2021.
The ingredients, equipment, gas and infrastructure for these meals are funded exclusively and entirely by the Foundation, which itself is funded by Journey's End Vineyards and the Gabb family – who purchased the vineyards in 1996. Through a network of nine soup kitchens run by a group of inspirational local female volunteers, meals are cooked and served daily for the local communities.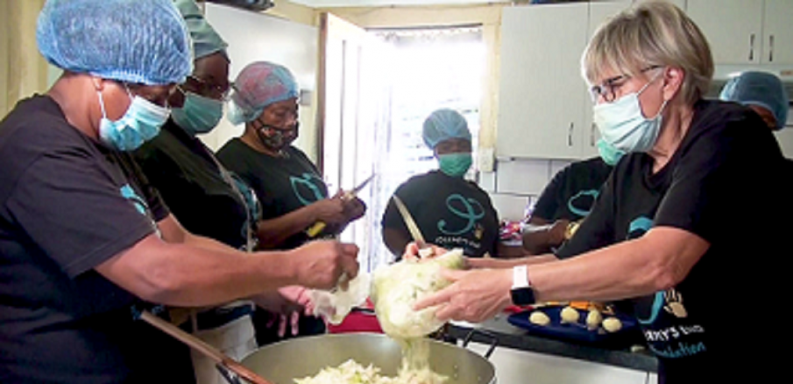 The importance of helping the surrounding community of Sir Lowry's Pass has always been of utmost importance for Journey's End, as many of their team members live nearby with their families. Having seen the impact the food programme has made, and the urgent need for continued support, Journey's End and the Foundation look forward to providing ongoing support, indefinitely.
Rollo Gabb says, "We are incredibly proud of the Journey's End Foundation team, especially on the ground. Without the inspiring local women who cook and serve the food, we would not have been able to make this a reality. We are now providing over 20,000 meals a week which is far beyond what we initially set out to do. Our goal is to provide 1,000,000 meals by the end of this year, and then continue to scale up the program to provide ongoing assistance in future. There is a sense of urgency that we can and should be doing more, and that is exactly what we plan to do. We look forward to seeing the programme grow and deeply hope we can continue to make a difference to those most in need."
Hettie Orffer, who manages the soup kitchens and works closely with Journey's End Foundation says, "I have worked alongside Journey's End for years on community support programmes, such as the 'Beat the Bully' campaign, which aims to eradicate bullying in townships through education. It is such a privilege to now be helping to run Journey's End Foundation's soup kitchens. The last year has been particularly devastating with lack of jobs, illness and the increasing poverty so to be able to ease some of the pressure by providing daily meals is a blessing, and the need to continue is evident."
For its ongoing commitment to the local community, Journey's End last year was named 'Ethical Company of the Year' by The Drinks Business Green Awards 2020.
For more information about Journey's End, visit their website here.