Pebbles Project: Making the circle bigger and bigger
By Julia Moore | 2nd May 2019
Across the wine farms of the Western Cape, the Pebbles Project is a significant player in the Early Learning Development (ECD) sector. In just short of 15 years, they have established over 50 ECD centres serving 1 700 children across the Winelands, from Citrusdal at the foot of the Cedarberg mountains in the West, all the way out to the Upper Hemel-en-Aarde Valley near Hermanus in the East.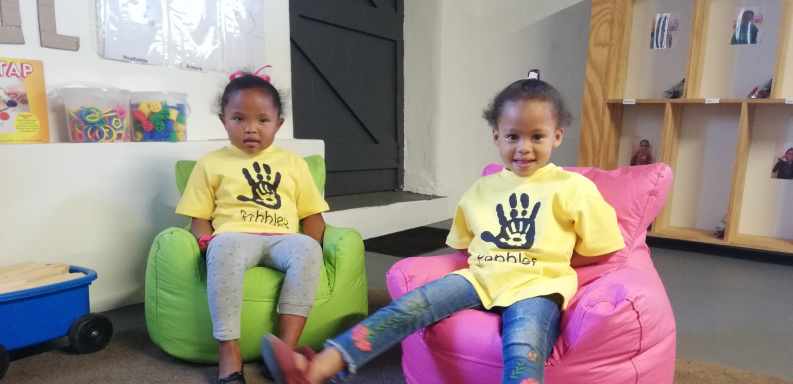 Over the years the Pebbles Project has added several more strings to its bow. Besides their extensive education programme which also includes an After School Club, they offer Health, Nutrition, Community and Protection Programmes either at the ECD Centres themselves, or from their headquarters on the Villiera wine farm near Stellenbosch
In 2017 I wrote about the new ECD Centre that was opened in the Hemel-en-Aarde Valley, a project championed by Carolyn Martin of Creation Wines and made possible by Andre van Hoogstraten who generously donated the buildings on his farm for the purpose of educating and caring for the children of the farm workers in this isolated place. Children between the ages of 2 and 5 attend the ECD centre, and a bus brings the Primary School children to attend the After School Club from the Diepgat School up the road.
A few weeks ago I was privileged to witness the opening of a substantial expansion to this centre, orchestrated predominantly by the Rotarians of Hermanus who, in addition to raising funds themselves, secured a Global Grant from Rotary International along with additional support from individual donors and local businesses.
The project involved restoring a derelict building on the farm that now consists of 3 large classrooms, toilet facilities for the learners, staff bathrooms as well as a kitchen and administration area.
The new playground is more than double the size of the previous one, and includes a sandpit and jungle gym with swings, monkey bars, a balancing beam, fireman's pole and tyre tunnel. 30 additional children are now able to be accommodated in this space.
Numbers at the Diepgat Primary school have been dwindling due to concerns over its future. Parents have resorted to sending their children to stay with relatives in town where there is little or no supervision. So the decision was taken to register this facility with the Department of Education as an Independent Education Site which means the Diepgat learners will soon be able to attend the Pebbles Academy here.
Hemel-en-Aarde literally means 'heaven and earth' because it appears to the visitor as suspended between heaven and earth, a paradise where rolling vineyards are surrounded by fields of indignenous 'fynbos' and towering mountains are topped with the bright blue sky above and the sea crashing below. Idyllic it seems, but only now that the Pebbles Project has established a presence there, can the children of this isolated paradise begin to thrive as they deserve.