Real time harvesting - by Fiona McDonald
By Admin | 13th February 2019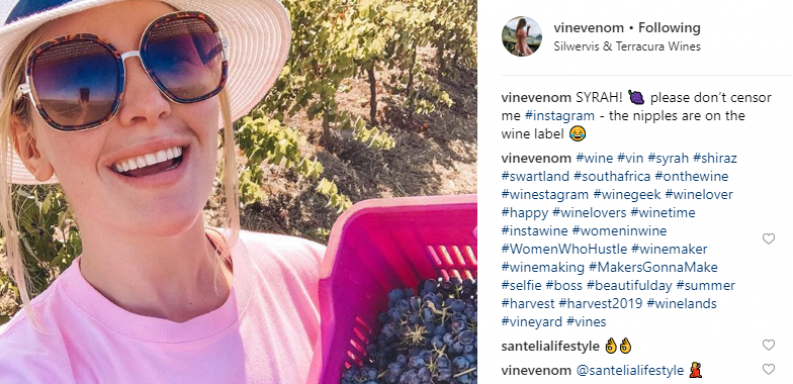 Even just a few weeks in, harvest 2019 has been as challenging and engaging as ever. And probably more real and up to the minute than has ever been possible... because of the social media aspect being played out hour-by-hour and day-by-day on Twitter, Facebook and Instagram.
At first glance, this might seem a frivolous topic: people posting pictures of dawn breaking in vineyards from Kakamas to Piekenierskloof and Jeffrey's Bay, of crates of glistening just picked grapes, of freshly squeezed juice running out the press and pipes snaking all over the winery floor, connecting pumps and tanks with even a few eager Elsenburg student stripping to their skivvies and dunking themselves in a bin of Pinotage– but it's not.
It demonstrates just how swiftly information is flowing and how inter-connected and engaged the wine world has become. Sellers and agents in London can appreciate a hot dry day in the Swartland – or an unexpected cloudy or even rainy day in Elgin that will raise the threat of disease or fungus.
Wine groupies can feel a virtual part of what's going on – even if it is half a world away. Bubbly makers Paul Gerber of Le Lude and Pieter Ferreira of Graham Beck were among the first to start the ball rolling with their shared Tweets and Insta posts of the first few lug boxes making the voyage of transformation into fizzy wine. And then came the news that Gerber was joining Colmant Cap Classique in March – but that his capable deputy Emma Bruwer would be stepping into his Le Lude boots...
It's a hectic time of year for grape growers, winemakers and technicians alike. Timing is everything and information is king. Soon VinLab joined in, posting schedules of driver pick up times in the different regions – along with opening and closing times for counter service in Stellenbosch. Now's the time that cellar jockeys need to know what's going on with not just ripeness levels in grapes but their ferments too – and is why VinLab's staff have kicked up their activities a notch, providing the analyses of various acidity levels, sugar, alcohols, yeast populations and more.
Sam O'Keefe of Lismore in Greyton dropped her kids off at school and headed to chilly London for a few days of all important trade visits before heading back to harvest her first load of Chardonnay. Hundreds of kilometres away on the Cape South Coast, David Finlayson shared a photograph of his meagre maiden harvest of Shiraz from the vines he planted in Jeffreys Bay a few years ago while master of wine Greg Sherwood of Handfords in London communicated that the Swartland Grenache vineyard that provided the fruit for Ian Naude's Chateau Rayas-like 2015 bottling was picked on 8 February.
Perhaps one of the most compelling accounts to follow on Twitter has been a technical one: @WineMSza. From Paarl this information management systems company has been keeping track of the flow of the harvest.
Just a few hours before this piece was written, @WineMSza posted that it's Week 6 of vintage 2019 and already 100 000 tons of grapes had been harvested – complete with a graphic demonstrating what varieties had been brought in (41% Chenin Blanc, 16.8% Sauvignon Blanc, 8% Colombar, 7% Chardonnay, 5.3% of Pinotage along with Muscat and table grapes)!
"#Harvest2019 Update: Week 5 – 80% of our wineries have started. Encouraging comparison to 2018, but is the harvest earlier? Acids and sugars higher than the last two years." That was posted on 4 February.
How about this one from 6 February: "#Harvest2019 Milestone reached: 100 000 tons. With temperatures soaring – hats off (or on) to all the farmworkers, producers, viticulturists and winemakers @VinPro_za that get up early in the morning and work till late at night."
As recently as two years ago, this sort of near instantaneous feedback would have been a pipedream. It's now a reality – and the most interesting observation is their final hashtag: #informationisfun.
Isn't it just?
[gallery ids="3016,3020,3019,3018,3014,3013,3012,3011,3010,3009,3008,3007,3006"]
- Fiona McDonald