Taking a leap and blazing a trail to make a difference
By Julia Moore | 4th September 2019
The decade-old story of Bosman Adama is well-known: a historic wine farm in Wellington where the workers own a 26% share in the farming operation, still the biggest transformation deal in the wine industry today.
On this farm, there is much opportunity for advancement. Besides the many facilities created to improve the lives of all who live and work on the farm, from crèches to clubs, houses and a clinic, there have also been many opportunities for advancement of individuals.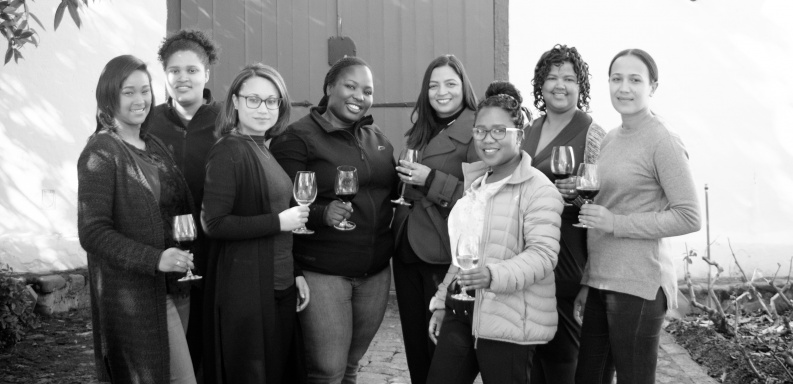 Several employees have made use of bursaries and funding to study further, qualifying themselves in Business Management, Accounting, Logistics and Farming and thereby moving up the ranks of the Bosman Adama business.
It soon became evident that there were a group of workers in the ranks, all women, who possessed between them the skillset to run their own company.
And so Adama Wines was born. This group of resilient women have an unconventional business model. Instead of making wine and then trying to sell it, they are working the supply chain from the consumer back to the resource which means they will let the customer dictate their requirement and will then respond by sourcing the grapes, making the wine and then supplying it to specifications. Adama Wines has a 30% Black women ownership, and a 55% Black ownership through their shareholding together with the Adama Employee Trust.
Adama Wines has been in operation for the past 18 months, building a consumer base and a sound reputation. Recently they appointed their own winemaker and General Manager, Praisy Dlamini. A graduate of Elsenburg College, Dlamini has spent 16 years in the wine industry, initially as a Cape Winemakers' Guild protégé and later at Distell. She then spent 2 years in sales at Anchor Yeast before joining the Adama Wines team: "I love the Adama Wines concept," she says, "I value the Adama Wines team for their sense of community and I know we can build our dream together. I can see huge potential in the individual capacity of each team member as well as our combined skill pool as a business proposition. I am excited to see our plans develop."
This ground-breaking venture was launched to the wine industry in particular, and the public at large, on Wednesday, 14 August at their office space at Tabakhuis in Paarl, where the all-women team was introduced and their plan was presented. The company already has existing contracts to supply bulk and bottled products, but are keen to do more.
Dlamini is positive: "We are professional; we offer customer-made solutions; and we are willing and geared to deliver," she says confidently.
For more information please visit their website on www.adamawines.co.za
- Julia Moore