50 not out
By Fiona McDonald | 9th November 2021
1971 was quite the year. Much of what made the news involved America: Charles Manson and his acolytes received the death penalty while Apollo 14 landed on the moon with Commander Alan Shepard being only the fifth astronaut to walk its surface. (He's also the first to swing a makeshift golf club on the planet!)
Nasa was on a roll with its Mariner 9 satellite the first to successfully orbit another planet, zooming around Mars, mapping the surface of the place where Elon Musk now wants to establish the first space colony. And Walt Disney really took the Mickey (Mouse) when he opened the world's biggest play park – Disneyworld – in Florida, an attraction which millions still flock to today.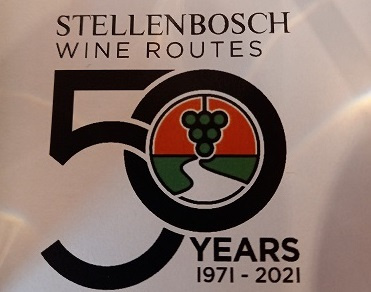 Just a few scant years on from partition, India and Pakistan went to war – for 13 days – in December. The net result was that East Pakistan gained independence and henceforth has been known as Bangladesh. Qatar also gained independence in 1971, having been a British protectorate since 1916. Switzerland magnanimously allowed women to vote for the first time while fashion designer Gabrielle Coco Chanel died at the age of 87.
And in Stellenbosch Oom Frans Malan of Simonsig, Niel Joubert of Spier and Spatz Sperling of Delheim banded together to form the fledgling Stellenbosch Wine Route. From the 2021 perspective it seems somewhat homespun and charming – especially since by 1992, when the route marked its 21st anniversary, its membership had grown to just 24 properties. Another 28 years later that membership roster now tallies 120. Obviously, the number of wine farms in Stellenbosch far exceeds that total but there are a host of brands which either don't own land or have a physical venue for tourists and wine lovers to visit or they simply choose not to belong.
There have been significant milestones through the years – the first Stellenbosch food and wine festival in 1973, the role played by Stellenbosch Wine Route in the adoption of the Wine of Origin system in 1973, overcoming bureaucracy to have the first wine route signs erected alongside roads for tourists to self navigate their way through the winelands, hosting the first summertime street soirees in 2011 and in 2014 opening its dedicated visitor centre in the heart of Stellenbosch.
It was also in 2014 that it was awarded the accolade of Wine Drinks Business Wine Tourism Awards "Best promotional body", something it won again in both 2015 and 2016.
Something which seems so simple and obvious nowadays – a regional wine body, promoting wine and tourism – was revolutionary five decades ago. That it has been successful is without doubt. The cliché holds that emulation is the best form of success, and the fact that South Africa has similar member organisations in every region bears that out.
The point was made at a recent tasting at Spier's historic wine cellar that in 1968, there were only four private producers marketing wines under their own labels: Rustenberg, Montagny, Overgaauw and Muratie. Obviously the KWV and Stellenbosch Farmers' Winery were the major players in the industry – but could those pioneers have foreseen Stellenbosch becoming the pre-eminent wine destination in the country? The one which wine drinkers the world over associate with South Africa?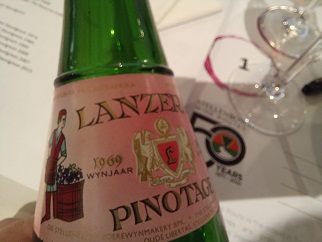 I doubt it. The strides taken in terms of quality have been remarkable, phenomenal even in those 50 years, as the tasting of wines from each of the decades demonstrated. Lanzerac Pinotage 1969 was joined by Bertram's 1975, Middelvlei 1988, Kanonkop 1994, Beyerskloof 2008 and Bellevue's The Reserve Collection 2017 – history in a glass and a fabulous snapshot of the evolution of the uniquely South African wine grape and style.
Sauvignon blanc was represented by Mooiplaas and Thelema, both from the 2007 vintage but markedly different stylistically. Flying the Shiraz flag was Saxenburg with a 1995 private collection and 2000 "Triple S", the Shiraz Select. Warwick's 1996 Cabernet Franc was paired with a 2007 from Oldenburg.
Red blends saw Chateau Libertas 1979 get the credit it deserves for being a South African standard bearer for more than eight decades, Overgaauw Tria Corda 1982, Meerlust Rubicon 1991, Rust en Vrede estate 1995, Morgenster 2003 and an Ernie Els 2015.
However, the flight of the tasting was undoubtedly the Cabernet Sauvignon selection. Delheim 1974, Simonsig CIWG 1984, Thelema 1994 (a Diners Club Winemaker of the Year winner for Gyles Webb), Alto 2000, Le Riche CWG 2007 and a silky, supple Waterford 2015. If ever any evidence was needed that this ubiquitous international grape is thoroughly at home in Stellenbosch soils, be they on the slopes of the Helderberg, Simonsberg, Jonkershoek or elsewhere, this line up demonstrated it.
The Stellenbosch Wine Routes has woven a wonderful tapestry, promoting the wines of the area, focussing on improving quality, welcoming local and international visitors to this beautiful part of the world and providing a template for other regions to follow.
In just 50 short years it has gone from real 'mom and pop' type operations to internationally renowned and recognised, savvy businesses, populated with export and marketing managers and more, up to the challenges that global competition requires.
Cheers to the next 50!