A Foundation of Friendship
By Tšepang Molisana | 16th November 2023
MR De Compostella and Epicurean Wines approach their 20 year anniversaries with powerful parallels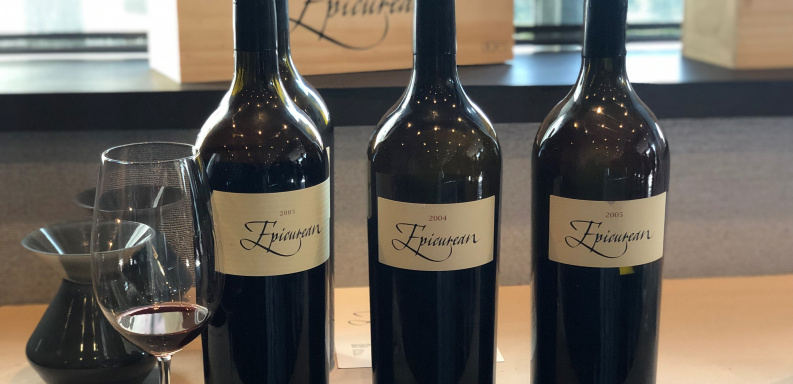 "One night Mzokhona and I sat beneath the stars on the stoep and we shared a common dream: of creating the absolute best wine that we could," Bruwer Raats says, surrounded by friends and oenophiles at The Potluck Club Johannesburg.
Mzokhona Mvemve had recently poured the wine at some exclusive locations in New York and Florida, and each drop became more precious as the wine's cult status and critical acclaim continued to be fueled by appreciation for the 2021 vintage.
Shrouded in secrecy, Club 33 in Florida, tucked under Disney's lair of media titans, ingenues and geniuses, Mzokhona poured the wine for a select few. In this Disney dream, no photographs are allowed, but the appreciative reception made it possible for those in attendance to sign the menu in appreciation for the wine and story he shared with them.
MR Decompostella is a journey that officially began with the 2006 vintage but their shared dream began under a 'field of stars', hence the moniker, De Compostella. Officially founded in 2004, MR De Compostella celebrated the journeys of the two winemakers who founded the company.
Mzukhona Mvemve graduated from studies in chemical engineering in Kwa-Zulu Natal and briefly worked for a petroleum company before receiving a scholarship to study winemaking in Stellenbosch. As a viticulture and oenology graduate he worked at Kanu with Teddy Hall and Delaire Graff with Bruwer Raats before becoming renowned in various roles within the wine industry. Alongside his work as a trustee for the Pebbles Foundation, his work as a wine judge and the founder of the Sagila brand, his work extended to being the winemaker for Cape Classics and a partner for MR De Compostella.
Mvemve and Raats, the MR partners, both became acclaimed for their singular vision.
"Noone really knew who I was when we started this," Bruwer confides.
In 2023, Bruwer was acknowledged in Tim Atkin's Special South Africa report as the Winemaker of the Year.
The Raats Jasper Red Blend 2021 is a blend of 53% Cabernet Franc; 36% Malbec; 5% Merlot; 3% Cabernet Sauvignon and 3% Petit Verdot, made in tribute to Bruwer's father, the late Jasper Raats.
"My father and I planted this Cabernet Franc vineyard together," Bruwer says as he describes the phenomenal potential of Stellenbosch Cabernet Franc. While his late father never had the opportunity to taste the wine, the resultant wine speaks to their singular vision and to the sagacity of Raats Family Wines focus on Cabernet Franc. They have also been renowned for their Chenin Blanc sensibilities.
The 2021 Mr De Compostella blend is comprised of 35% Cabernet Sauvignon, 26% Cabernet Franc, 20% Merlot, 17% Malbec and 2% Petit Verdot.
Vivid, and intense, this wine continues to garner critical acclaim, and was described by Greg Sherwood MW in glowing prose: "this harmonious, vibrant beauty is a spellbinding, timeless classic in the making. If you wanted just one wine to convince an international fine wine connoisseur of the true greatness of South Africa's finest terroirs and winemaking, you have found your candidate!"
The predecessors to the 2021 vintage, the 2017, 2018 and 2020 continue to rise in resplendence and refer to the first starry-eyed dream imagined by its founders.
So committed are Bruwer and Mzukhona to their precious purpose, that they elected to not release the 2010 and 2019 vintages as they did not meet the hope they first set out to achieve one starry night in Stellenbosch.
A different group of visionaries and friends, held their hope high, ignited by travels to France in 2000.
"It was on our travels with our wives, sharing wonderful wine from around the world that we shared our dream," Mbhazima Shilowa says to a gathering of friends at The Saxon Hotel in Johannesburg.
The former Premier of Gauteng, after whom the Shilowa Express was named teases his love for travel. Far beyond the stops of The Gautrain, the friends travelled to France in 2000. Shilowa, alongside businessmen Ron Gault (who has since returned to the United States), Mutle Mogase, Moss Ngoasheng became negociants before it became fashionable.
Their friendship rode the highs and valleys of various vintages while navigating the business decisions that determined blending, cellaring, releasing, marketing and sharing wine that reflected their collective tastes and passions.
The Epicurean Red Blend began with the 2003 vintage, first blended when they all brought wines from their private cellars and tried to find a zenith taste. The initial 2003 blend was a Bordeaux style blend made predominantly from Merlot and Cabernet Sauvignon grapesWos. The current release, Epicurean Red 2015 is a blend of Merlot, Cabernet Sauvignon, Cabernet Franc and Petit Verdot.
Barely nine years beyond democracy, the dream of Shilowa, a former Robben Island Prisoner alongside Nelson Mandela was met with fascination by the wine media.
Mutle Mogase, Epicurean's fellow founder, discusses with Len Maseko, who attended the first tasting in 2006 alongside Jenny Crwys Williams and Michael Fridjhon, how his wine enthusiasm began as a student at Wits University. Mutle, Len and others invited winemakers to Soweto under the cloak of apartheid to share their shared love, wine.
"Our journey as founders has always been based on a shared passion for fine wine and perhaps more so for sharing this passion - and these wines - with those who appreciate it too. For us it's about expanding our circle of like-minded epicureans," Mutle says.
The Epicurean founders continue to make their annual pilgrimage to the Rupert and Rothschild property in Franschhoek, where they taste wines from their cellars and blend the Epicurean Red Blend as well as a widely acclaimed Epicurean Chardonnay made from Elgin grapes.
For the Epicurean and MR De Compostella founders, Bordeaux style South African red blends continue to bind and spellbound what began in the comfort of friendship and continues to inspire 20 years beyond their first shared secrets and visions shared between friends.