A Toast
By Fiona McDonald | 2nd December 2020
A month or two shy of 2021 – and the year which sees the 50th anniversary of the first bottling of Simonsig's Kaapse Vonkel – the 2015 vintage of this bubbly won Johan Malan bragging rights to the Diners Club Winemaker of the Year title. Fitting that in the year in which Cap Classique was the Diners Club category that this sparkling wine, the one which launched it all, should be celebrated!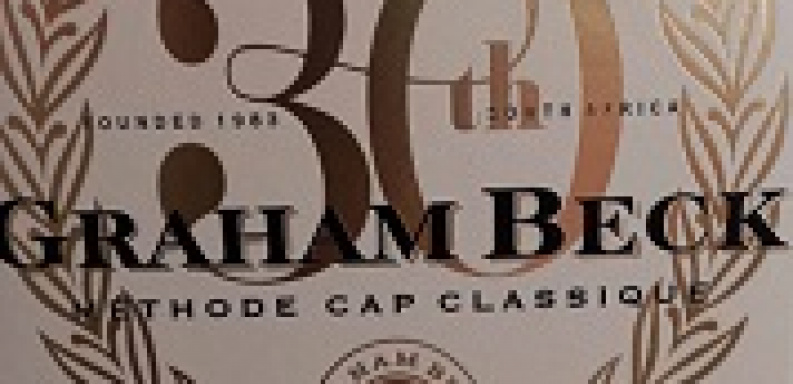 It was in 1971 that Simonsig pater familias Frans Malan bottled South Africa's first ever local methode Champenoise sparkling wine and kickstarted a journey which would result in Methode Cap Classique (MCC) being recognised as the country's answer to Champagne. It also lit the spark for some of the country's top winemakers who continue to push boundaries, innovate and refine their bubbly offerings.
Cap Classique as a class has flourished, its momentum driven by an enthusiastic and engaged Cap Classique Association, established in 1992 and now boasting more than 80 members. The association also introduced the term Methode Cap Classique/MCC in the year the body was established, and set the bar high.
And there's no more driven member than previous Diners Club Winemaker of the Year for this category, Pieter Ferreira of Graham Beck. (He won in 2004 with a Graham Beck Blanc de Blanc 1999...) As many in the wine fraternity know, Ferreira goes by the nickname of Bubbles – for good reason!
Graham Beck as a brand has to be admired for their conviction and faith in bubbly – and Bubbles! In 2015 CEO Chris du Toit announced that the still wines in the Graham Beck portfolio were being sold off in order to focus solely on sparkling wine. Furthermore, they invested millions in gearing their already impressive operation to drive quality and production even more.
It's also just marked its 30th anniversary with a typical 2020-style socially distant celebration – by Zoom conference! As it stated in a press release, "Cap Classique is intrinsically a drink which is intended to be savoured and enjoyed with good company – and we revel and are humbled in the fact that so many have invited Graham Beck to be part of their journey."
Ferreira walked their many Zoom guests along the three decade journey: from the first vintage under the stars (the 1991 harvest was vinified in a cellar which still lacked a roof!), to being selected as the "celebratory drink of choice at the inauguration of South Africa's first democratically elected head of state, Nelson Mandela" in 1994 with the maiden 1993 bottling of Brut NV – to again being chosen by an equally historic president in 2008, this time American head of state, Barack Obama.
Constantly experimenting, Ferreira is like a Duracell bunny when he gets to talk about playing around with the fizzy stuff! Time on lees... wood maturation of base wines... the same wine with different disgorgement dates... and most recently storage under cork are topics which have exercised his fertile mind. (Graham Beck now specify each bottling's disgorgement date on the label of each wine.) And the cork experiment was done to see whether storing a bottle lying down or standing upright made a difference to the taste of the wine. (It does!)
Ever innovative, both Du Toit and Ferreira said that the global pandemic had pushed the pause button and given them time to reflect and review. Fans of Graham Beck bubbly will be pleased to hear that a new tier of wine will soon be slotted in just below the icon Cuvée Clive pinnacle: the artisan collection. The niche, limited, single site bottlings will be high end and will no doubt be a hit with true bubbly fans and wine geeks. Their takeout for the 30th anniversary was to "Celebrate What Matters".
And while on the topic of wine or bubbly nerds, nothing in the sparkling wine world is more geeky than methode ancestrale or petillant naturel. ('Pet-nat', to fans of the 'no-holds barred' non-interventionist style of natural wine...) It's still a small segment of the sparkling wine scene in South Africa but is one which has its followers. Voor-Paardeberg producer Vondeling was the first to market with its methode ancestrale some years ago but Wellington's Bosman Family Vineyards produce a different pet-nat every year.
Winemaker Corlea Fourie poured the 2020 at a recent Bosman wine event at their beautiful frame house venue in the upper Hemel-en-Aarde valley. The grape variety changes, as does the front label. "It's for people who love wine – especially wine kept as natural as possible," Fourie said, revealing that the most recent bottling of Bosman's is a Chenin Blanc and there were only 2 200 bottles produced – most of which has been exported to New York where there's a ready market for it.
Fourie joked that this wine "was like the year 2020 – you just never know what you're going to get!" There's no Monday to Friday, between 9 and 5 for this finicky wine child! "It'll be the one that decides it's ready to be bottled at 10pm on a Sunday night! It does its own thing," she said.
Her summation of this labour of love is that pet-nat is "the closest I can get to people or consumers experiencing what I, as the winemaker, do when I open a tap in the winery." So it's the vinified grape in its most natural, sparkling form.
And all indications are that South African bubbly is indeed in sparkling form.