Banhoek
By Jamie Goode | 2nd April 2019
Stellenbosch is the most well known wine region in South Africa, and historically has been the most important. But with the barrage of international attention that has chased newer, dare we say 'trendier' wine regions in the Cape – such as the Swartland with its revolution, Hemel-en-Aarde with its Chardonnay and Pinot Noir, and Elgin with its cool climate precision – Stellenbosch hasn't got the attention it perhaps deserves. Things are changing, though, and one of the recent phenomena bringing attention back to the region has been the producer collectives, such as the grouping together of the Banhoek wineries to do some marketing of their particularly picturesque corner of the region. I visited on a gorgeous early spring day to take a look at what is going on here.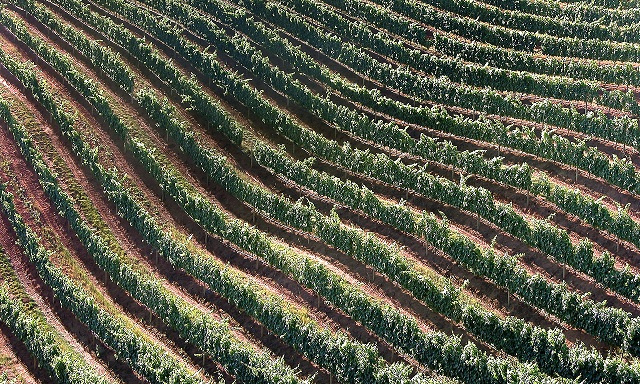 Banghoek or Banhoek? Both variant spellings are used, but the word translates as 'scary corner, and is pronounced 'bun hook'. The vineyards are in the Banhoek conservancy, and this is one of the only plains in the area. As a result, animals would congregate here, and it used to have a large population of elephants, but the travellers who came here were more scared by the black-maned cape lions. Both species have now gone, but there are still lepoards, and many of the wine farms have motion activated cameras that have picked up pictures of these elusive residents. There are three small hamlets in the conservancy, including Pniel, a village that was established for freed slaves, and some families have been resident here since it was established in 1842. Originally, 19 hectares were donated by the de Goede Hoop farm for landless, homeless slaves after the British Empire abolished slavery in 1833.
This was a fruit-growing area, and Thelema were the first winery to pull out fruit trees, plant some vines, and make wine here. This was back in 1983 when Gyles Webb bought a run-down fruit farm on the Helshoogte Pass, and over the next two decades Thelema were to have a massive impact on the South African wine scene, making impressive wines that sold out quickly. But they weren't the first to plant vines in Banhoek: Bartinney had some on their farm as long ago as 1912, although they didn't make wine here.
The Bartinney farm had been in the Jordaan family, and was recently brought back by Michael and Rose Jordaan, who now have ambitious plans for this beautifully situated 28 hectare estate. There's a similar story with the owners of Oldenberg: Adrian Vanderspuy was born here and left in 1967, only to return to plant the current Oldenburg vineyard in 2003. Both estates are turning out some very smart wines.
Delaire Graff are another famous resident of the Banhoek. John Platter of the famous Platter Guide bought a farm here and renamed it Delaire back in 1982. It was purchased by Laurence Graff of Graff Diamonds in 2003 and has since been turned into a prestigious luxury hotel, art collection and winery. Morné Very, winemaker here, is producing some excellent wines.
Capensis is an exciting new project here, part of Jackson Family Wines from the USA, with ownership split between Barbara Banke (of Jackson Family) and Anthony Beck (of Graham Beck). They have bought a vineyard, and Graham Weerts, who is south African and heads up the wine division, is very excited about it. 'I think this is the best vineyard site I have every worked with,' he says. Capensis is solely a Chardonnay project. 'We really believe that South African Chardonnay is world class,' he says. 'It will be the calling card from this country.'
But Cabernet Sauvignon also thrives here. It's interesting that with the exposures and different sites, Banhoek can do these two varieties really well, even though in the classic wine regions of France they don't occur together.
Another top estate of the Banhoek is Tokara, and they have a new winemaker in Stuart Botha: founding winemaker Miles Mossop recently left to pursue his own project. They are keen to stay virus free – leafroll virus is prevalent in South Africa and can cause problems with ripening of red wines. 'We drew a line in the sand when planting the vineyards,' says Botha, 'that any virused vines will be pulled out.'
Some of my top wines from Banhoek:
Capensis Chardonnay 2015
This was a sample from just two barrels. The debut vintage of Capensis is the 2015, but it is a blend of Banhoek with Kaimansgaat and Robertson fruit: this sample was solely from Banhoek. It's a serious effort with power but also taut mineral notes and good acidity.
Bartinney Chardonnay 2016
From 20 year old vines, this is fresh and linear with some fine spiciness and some mealy notes. 30% new oak doesn't intrude on the fruit. A lovely wine.
Delaire Graff Banhoek Reserve Chardonnay 2017
No malolactic and no battonage, in order to preserve freshness. This is linear and bright with focused fruit. Real finesse.
Oldenburg Vineyards Rondekop Per Se Cabernet Sauvignon 2015
This is from ten barrels selected from the main Cabernet Sauvignon, and spends two years in barrel. It's an amazing wine that's exotic and serious at the same time with sleek blackcurrant fruit.
Tokara Reserve Collection Cabernet Sauvignon 2015
This wine has beautiful floral aromatics with sweet leafy blackcurrant fruit. Sleek, sweet and modern with lovely freshness and purity.
Rainbow's End Cabernet Franc 2015
Cabernet Franc is a bit of an unsung star. This is berryish and bright with a pastille quality and lovely blackcurrant and plum notes.
Zorgvliet Petit Verdot 2016
It's rare to find the Petit Verdot variety on its own, but this is a very satisfying wine showing ripe yet fresh blackcurrant and berry fruits. Fleshy and expressive.
The future for Stellenbosch lies in enhancing its reputation as a premium wine region. It has so much to offer, and the best route seems to be in making the various subregions individually famous, while at the same time making sure that the name 'Stellenbosch' is kept at the centre. So it's great to see what Banhoek are doing. Now, all they need to do is agree on whether it is Banhoek or Banghoek. I'm kind of partial to the latter, but I sense that Banhoek is winning out.