Blending varieties
By Jamie Goode | 16th June 2021
In the classic wine regions of Europe, the tradition has always been to stick the name of the region on the bottle, rather than the grape variety. Thus we buy red Burgundy, Chablis, Barolo, Rioja and Chianti, rather than Pinot Noir, Chardonnay, Tempranillo or Sangiovese. In the new world, though, varietal labelling became the norm once marketers realised it gave consumers a clue as to what the wine tasted like, as well as simplifying the rather bewildering wine universe.
Rather than learn the names of each significant region, which numbers in the hundreds at least, it was enough to learn the names of maybe half a dozen popular grape varieties. [This wasn't always the case, though: in the past it was common to see new world wines labelled by co-opted old world regional names, something that has now been outlawed].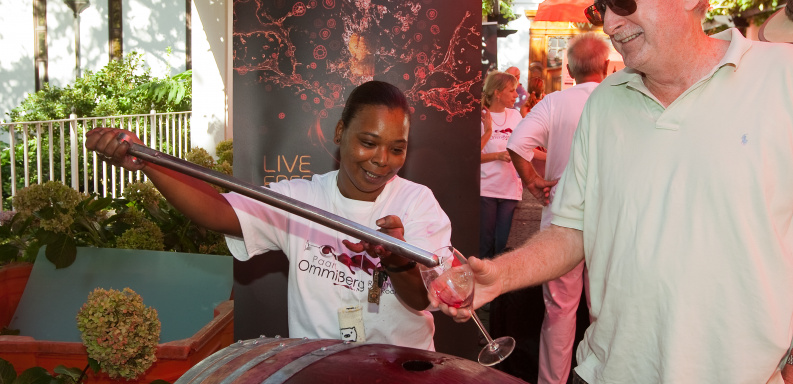 Varietal labelling has been a big success story, but it has counted against wines that are blends of varieties. In some cases, single-variety wines are seen as more prestigious while those that are a mix of varieties are regarded to be lesser wines. This is, of course, unfair.
Blending is an integral part of winemaking. Rarely is a wine released where blending hasn't been involved, even if it is from a single variety and a single site. If a winemaker has six barrels of Pinotage from a single vineyard, she or he might decide to blend all six together, or to use just a subset of them – perhaps four together make a complete blend and the other two can find a home in another wine in the range, rather than be part of the single vineyard bottling.
There are more parameters involved, though, when different varieties are blended together. This is where the art of blending really takes off. The world's largest fine wine region, Bordeaux, is known for its blends. For reds, there are five varieties commonly blended together: Cabernet Sauvignon and Merlot are the key players, with contributions from Cabernet Franc, Malbec and Petit Verdot often in the mix. Cabernet Sauvignon is thought to be a firm, structured variety, while Merlot adds softness and roundness, as well as filling in Cabernet's famous mid-palate hole. Petit Verdot is seen as a seasoning: if it's used, it's typically less than 5% of the blend, but winemakers reckon there's a significant contribution even at this low level. The classic Australian red, however, brings together Cabernet Sauvignon and Shiraz, with the two complementing each other well.
But there's one interesting question here. Some wine regions specialise in single variety wines while others are dominated by blends. Bordeaux, as we've mentioned, is a region of blending. Burgundy (or Bourgogne as we should now refer to it) is about single varieties. The Northern Rhône is a region of single varieties, while the southern Rhône is about blends. Piedmont is single varieties, while the Veneto is all blends. Why is this?
The first time I visited Eben Sadie in 2005 he gave me an explanation. His view was that in
cool continental climates single varieties excel: there's a dialogue with the environment and a long time to interpret the vintage. The coast, however, is best for blends, he maintained. Sadie added, 'there are always exceptions: you can never generalize in wine'. This loose principal seems to make sense. Warmer, more coastal climates are often best served by blends of varieties.
The first two wines that Eben made in the Swartland – Columella (red) and Palladius (white) – are both blends. This is a warm region, and although we couldn't say it is coastal, a blend here makes a lot of sense. Contrast the Swartland with Elgin or Hemel-en-Aarde, which are both cool regions, and there the main story is single variety wines.
It's entirely possible that many wines that are single variety might be a bit better if they were blends, but commercially it is more expedient to make them and label them with one grape variety. And some varieties do seem to work better alone wherever they are grown, than as part of blends. It's rare to see Riesling, Chardonnay or Pinot Noir as part of blends. Other varieties seem to have regular blending companions: good examples would be Sauvignon Blanc and Semillon, or Cabernet Sauvignon and Merlot.
South Africa has two classic wine styles that are blends of more than two varieties. The first is the 'Cape Blend', which first came to prominence in the early noughties. This is a red wine that is a combination of Pinotage with other varieties. An example of this is Simonsig's Frans Malan Cape Blend from Stellenbosch. The current release, 2016, is a blend of 70% Pinotage, 23% Cabernet Sauvignon and 7% Merlot, and it works really well. Another good example is Kanonkops Kadette, of which the current release is 37% Pinotage, 33% Cabernet Sauvignon, 26% Merlot, 3% Cabernet Franc and 1% Petit Verdot. This is affordable, is made in exactly the same way as Kanonkop's more prestigious wines, and ages really well. Cape Blends have never really taken off quite as much as was first hoped, but they are really interesting.
The other is the white blend, and these have truly taken the world by storm over the last two decades. A core component is usually Chenin Blanc, partly because there is so much good old vine Chenin available to work with. The already-mentioned Palladius is an example of a top white blend, and these days it is made from 11 different varieties. 'We are trying to produce appellation wines,' says Eben Sadie. 'But what is an appellation? If you want to make an appellation wine you need to include all the grapes in the appellation. Even grapes you don't like. I'm not particularly in love with Viognier. I make a little bit, and I include it because it is a bit of our appellation.' The Palladius blend is Chenin Blanc, Grenache Blanc, Marsanne, Roussanne, Viognier, Clairette, Semillon, Semillon Gris, Verdelho, Colombard and Palomino. 'Chenin is the driver,' says Sadie. 'Clairette is a high acid binder. Colombard does the same thing.' Donovan Rall's 'White' is another great example. This is a simpler blend, but it's very effective: 65% old vine Swartland Chenin Blanc, 30% of Stellenbosch Verdelho (for its bright acidity) and 5% Viognier, all fermented in old barrels.
Duncan Savage makes a brilliant white blend, the Savage White, with a somewhat different emphasis, with Sauvignon and Semillon the backbone. The 2018 is Sauvignon Blanc 49%, Semillon 33%, Chenin Blanc 18%. The three knit together perfectly. Sauvignon and Semillon are of course blended together to good effect in Bordeaux, and the Constantia region, with its cool climate, also makes white blends in more of a Bordeaux style. A great example would be Steenberg's Magna Carta, an ageworthy barrel-fermented blend of Semillon and Sauvignon.
If I were a winegrower, I think I'd like the challenge of blending together different varieties. After all, winemaking is an interpretive act: there's a human element to interpreting a terroir, and the parameters that using different varieties opens up could help in this creative expression. Let's not fixate too much on the grape variety.