Breedekloof discovered
By Angela Lloyd | 10th February 2021
The road is long and straight, the scenery dramatic. Towering mountains, snow-capped in winter, cascading waterfalls, eye-catching fynbos and wild flowers, wild animals too; the Cape Leopard and endangered geometric tortoise roam there; importantly, lush vineyards snaking the contours of the mountain slopes are a further attraction, as are the wineries where they are turned into wine. Of course, there's a river running through it; the Breede (wide) River takes centre stage.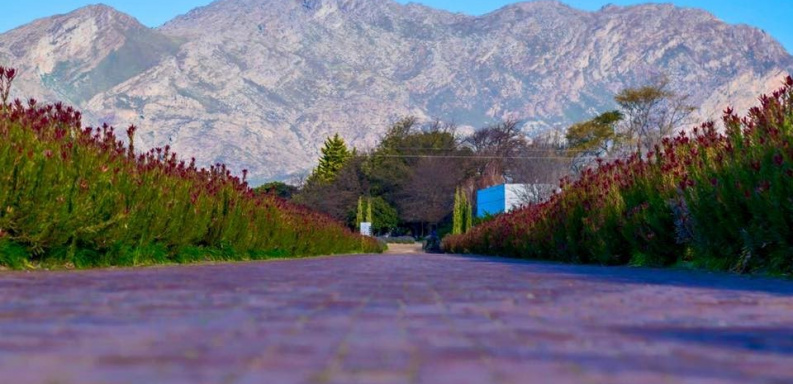 But many keep driving along that road, either towards Johannesburg or Cape Town; they are missing something special by not exploring Breedekloof.
It is a special area, as four producers, spread across the valley, delight in expounding.
From a tourism point of view, Kobus Deetlefs, owner of Deetlefs Estate, describes Breedekloof as the 'best part of two worlds – an hour from Cape Town but also far away and not over-commercialised.'
It might be a large area, but Olifantsberg winemaker, Elizma Visser notes the camaraderie between wine people; 'There's a willingness to share information between winemakers, which has definitely fast-tracked quality over the past few years.'
Attie Louw, 7th-generation on this family estate, reflects; 'There's a sustainable feel to viticulture thanks to the many multi-generational farms with people who have developed an understanding of their soils. We are blessed with great natural resources, especially an abundance of water but there's renewed energy around precision farming; exciting times!'
Daschbosch's WS Visagie mentions the diverse range of soils but also, located between the Atlantic Ocean and Klein Karoo provides a unique combination of coastal and continental climates.
Chenin Blanc and Pinotage are the area's two most-planted varieties. The very successful Breedekloof Chenin Blanc Initiative, launched in 2015, has driven winemakers to explore different styles and terroirs. Some light, fresh and fruity; others, innovatively vinified, reflective of specific vineyards. Pinotage too is being realised in a lighter, fresher style, more reminiscent of its pinot noir parentage, as well as the still-dominant fuller-bodied examples.
Breedekloof not only has a wide river, but a wide choice of grape varieties, many complementing the majority Chenin and Pinotage in blends. 'Rhône varieties,' offers Elizma Visser; Olifantsberg is planted to several of them, including Roussanne. Attie Louw agrees it pairs well with Chenin, 'As do Viognier, Grenache Blanc, Chardonnay and Semillon. You'll find them in blends from Deetlefs, Bergsig and Daschbosch. WS Visage believes the area's tropical character in Sauvignon Blanc goes well with Chenin. Thanks to Pinotage's depth of fruit, Elizma suggests Merlot and or Cabernet; with a lighter style, Attie nominates Cinsault and Carignan. Shiraz, Malbec and Petit Verdot are also mentioned. It's plain to see Breedekloof has multiple possibilities for blending.
Some of these varieties deserve stardom in their own right, producing wines of distinction beyond the two dominant varieties. Semillon receives nomination from Elizma, Attie and Kobus, as it grows well on the alluvial soils. Reds mentioned vary from Cinsault, Malbec to Petit Verdot.
The wide-ranging diversity among grapes and wines is matched by tourism opportunities.
Breedekloof deserves to be a destination rather than part of a journey.