Can we talk about the other night?
By Claudia Pritchard | 5th May 2022
Have you ever left home feeling one way and returned feeling altogether different? That happened to me the other night - perhaps it was the fall out of 'the Covid lockdown years' or just that I'm longing to be back in South Africa, but this particular evening was truly special for me.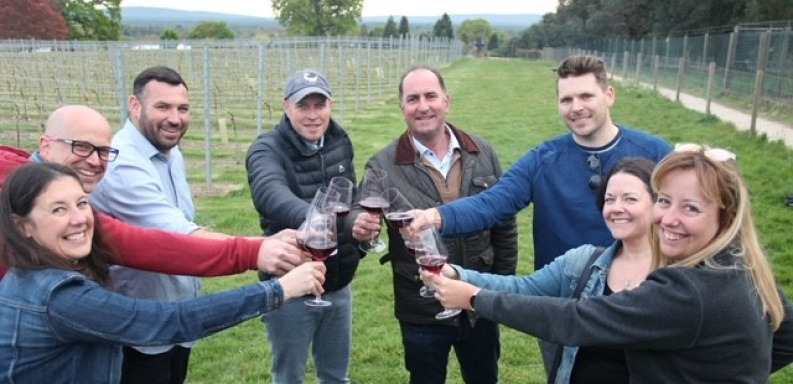 I was invited to a relaxed Braai at Leonardslee Gardens, a beautiful estate in West Sussex owned by South African entrepreneur and owner of Benguela Cove Wine Estate, Penny Streeter OBE. The invitation was kindly extended by Gerhard Pernod, the great grandson of Abraham Izak Perold who crossed Pinot Noir with Cinsault to give South Africa its indigenous grape variety, Pinotage.
I wasn't sure what to expect but when I arrived at the entrance to the renowned Michelin starred restaurant, Interlude, Gerhard was waiting for me. We walked a short distance, past a magnificent 7.5m sculpture called 'Faith' that celebrates the wonderful view of the gardens and West Sussex before it. Through a wooden gate we walked towards a small group of people who were gathered, tasting some wines. The Braai was alight and looking very inviting.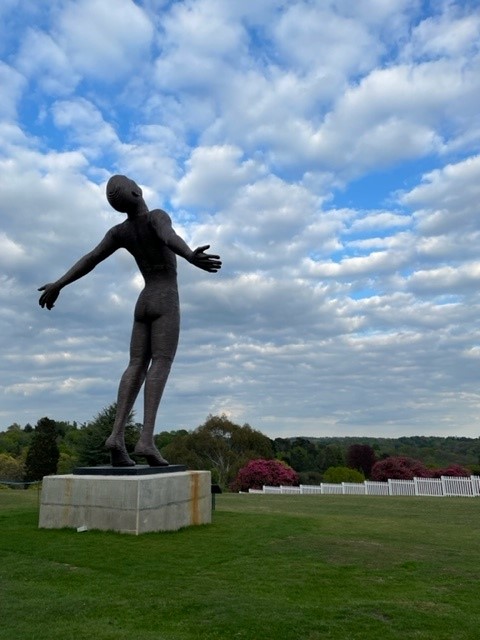 Gerhard introduced me to the other members of the group; Emma Hodges (wine experience and sales manager at Leonardslee Gardens and Mannings Heath Golf course), Barry Anderson (MD Manning's Heath Golf and Wine Estate), Winemaker Johann Fourie and Jean Delport (Chef at Interlude), Andy Copps and Michelle Cheyne who are part of 'Time to Wine Down' along with Gerhard and last but by no means least Reynard who was taking some photos.
What I haven't yet mentioned is that the Braai was IN the Pinotage vineyard. The first commercial planting of Pinotage vines took place at Leonardslee in 2018 and this evening we would be one of the first people to taste the fruits of the vine. How special is that!
Before we got to the main event, on the table were some other wines from Benguela Cove to try. First up was the Joie De Vivre 2017 Cap Classique – a delicate and beautiful wine that was the perfect way to start to the evening and get the conversation flowing. The Benguela Cove Malbec 2019, Collage 2018 (a Bordeaux blend) and Syrah 2018 were fantastic wines to match with the Braai that Jean was going to prepare for us.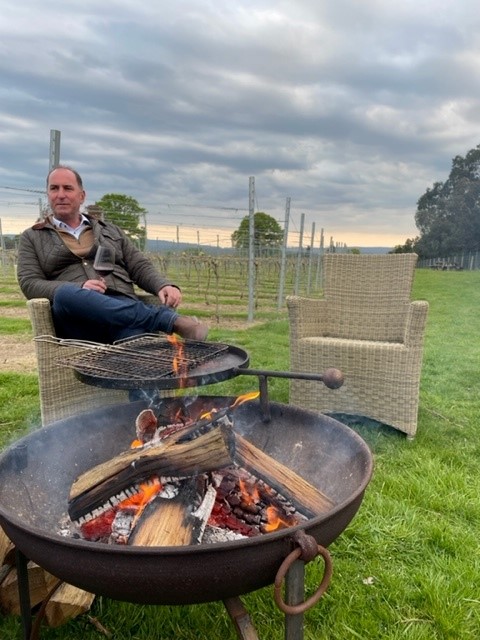 It was then time for the main event. Tasting the Pinotage! As South African wine lovers this was going to be an interesting wine. As winemaker Johann Fourier explained "Pinotage is an early-ripening grape that accumulates sugar very fast which we believe should work well in UK conditions when well managed – and picked before cold and disease pressures set in". This wine is a delicate fruit forward style of Pinotage that was delicious. First impressions seem to suggest that that the UK can provide excellent growing conditions for our much loved variety. Hopefully it will be on UK shelves later this year so do keep an eye out for it!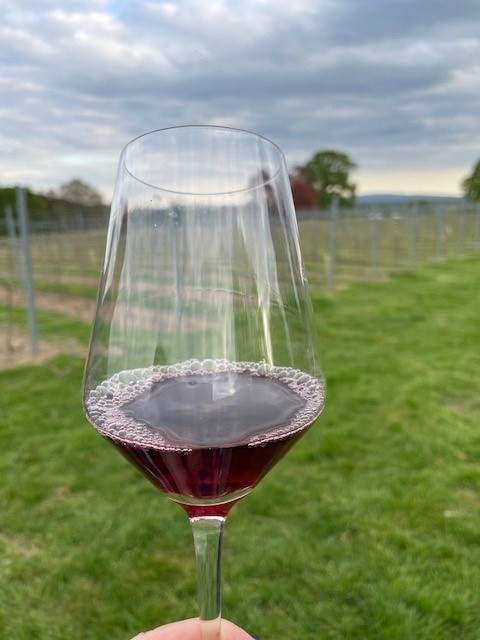 As the sun started to set, the Braai was almost ready for Jean. I was sitting by the fire when a waft of deliciousness filled the air. "it's just something simple" he said. But this is Michelin star chef "simple" and the Wagu beef roll with salad and slaw was obviously absolutely sublime. I did my best to wheedle the recipe for the slaw out of Jean but apparently I have to wait for his book which I hope he's busy writing – I'll be the first to buy it!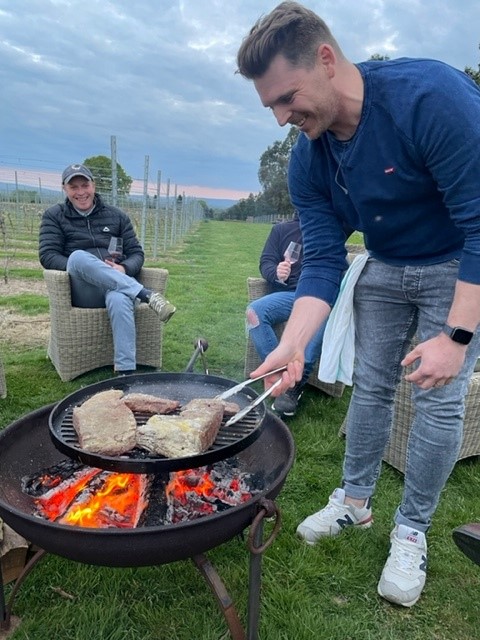 The evening continued around the Braai with the wines and conversation flowing until it was time to depart and head home. It was a truly magical evening that will stay with me for some time.
In the morning I still had the faint smell of the Braai in my hair. It's a familiar smell that comforts and brings memories flooding back to me. Reminiscent of how things were before Covid. Before lockdown. When we travelled and enjoyed incredible food and great wine in South Africa. When we listened to tales and told stories around the fire, chatting and getting to know people. The other night we reignited the art of conversation that has been put on hold for so long, flanked by wonderful, moreish wines. It was special and something to be cherished.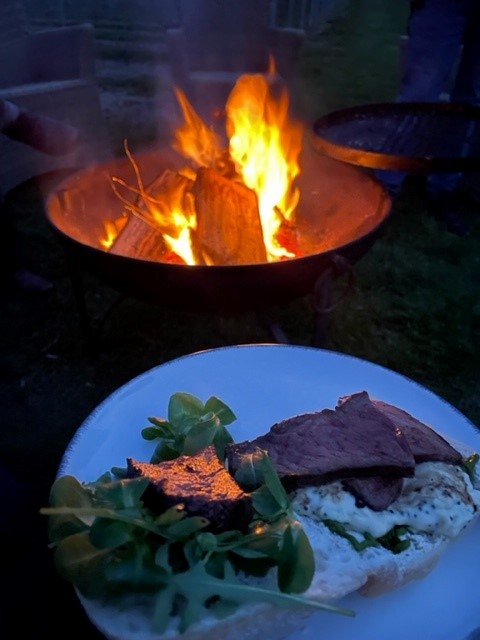 A Braai brings people together, it's a place to share stories, wine, food & experiences. The other night was like being back in South Africa again reminding me how lucky we are. I can't wait to go again. In the meantime, if Covid has taught us anything it's to make the most of getting together to share fine wines with old friends and to make new ones too. The authentic South African Braai at Leonardslee Gardens the other night did just that.
I'd like to send a heartfelt thank you to Gerhard, Emma, Barry, Johann, Jean, Andy, Michelle & the Leonardslee team. It was epic.