Care for Wild wine range launched
By Admin | 16th September 2020
The Rhinoceros is one of the world's most majestic and magical creatures. It is also well documented that, due to a growing demand for the Rhino's horn and subsequent poaching, this beautiful species is at serious risk. Seeing a 'crash' of Rhinoceros' may be a thing of the past sooner than we think. The White Rhino has been listed as 'near threatened' and the Black Rhino is in an even worse position with its status recorded as 'critically endangered'.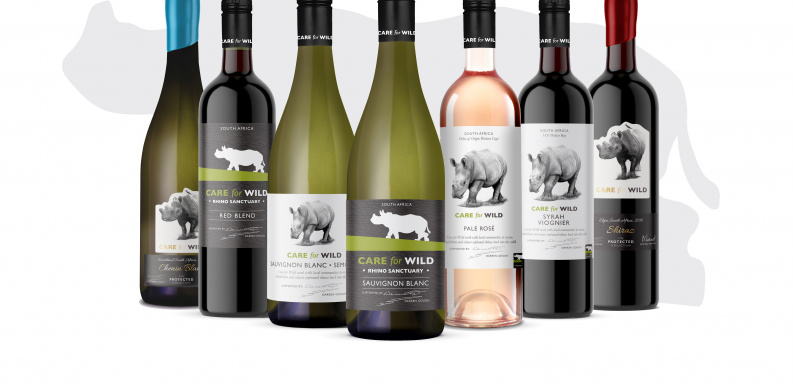 It's hard, when you're sitting in the UK, to think of ways that you can help the plight of the Rhinoceros. It's why we are delighted to bring you news of a new wine range that will support the Care for Wild Rhino Sanctuary NPC which rescues, rehabilitates and reintegrates orphaned rhinos who's mothers have been poached. The wonderful work the charity does will contribute to protecting the future of the species. Launched on 22nd September and available from Slurp Wines, a portion of every sale of Care for Wild wine will be donated to the charity.
The charity is working with long standing supporter and ex-England Cricketer, Darren Gough, and he is helping to raise awareness of both the charity and its work as well as the wine range being launched next week. It's no coincidence that Darren's nickname is The Rhino!
The founder of the Care for Wild Rhino Sanctuary NPC, Petronel Nieuwoudt, recognises that it takes time, money and effort to save a species: ""May I always be so humble as to recognise how little we started with and how far we have come. We now understand exactly what it takes to save an orphaned Rhino calf. We appreciate the time, money, and effort to save a species from extinction. This is by no means a single person's journey. It takes a team. We spend our energy wisely and share our experience and knowledge. Why? Why not? Is it not all of our responsibility to ensure a future for generations to come?"
Buying wines from the Care for Wild range will help to raise much needed funds for the charity and you can purchase a mixed case of Care for Wild wines from Slurp for £50*. As part of your purchase the first 50 people will receive a free facemask and wine cooler that shows your support for the Rhino. Plus, there is an exclusive pre-order sale, when you buy any of the wines you will receive a free invitation to the online launch event hosted by ex-England cricketer and Strictly Come Dancing winner, Darren Gough, on 22nd September. But you'll need to purchase by Tuesday 21st September 2020 to get this exclusive invite. There are only a limited number of spaces available, so do act fast to avoid missing out on this experience.
Purchase your mixed case or individual bottles here.
As Petronel Nieuwoudt says "If we can't save the Rhino, what can we save?".