Celebrate 50 Years of Cap Classique
By Admin | 28th April 2021
2021 sees Cap Classique celebrate 50 years of producing South Africa's leading sparkling wine – a milestone in the country's proud 360-year winemaking history.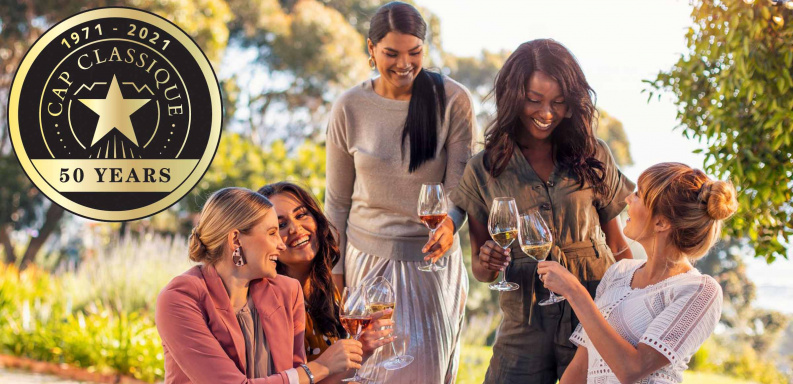 What are Cap Classique wines and why are they special?
South Africa's premium Cap Classique sparkling wines have been bottle-fermented and crafted in the Méthode Champenoise, producing wines which rival Champagne in quality. The wines are predominantly produced using two of Champagne's principal grape varieties – Chardonnay and Pinot Noir. However, they don't carry the price tag of the world's top sparkling wines and therefore present amazing value, so everyone can find a bottle to fit their budget.
Do Cap Classique wines come in different styles?
Perfected by time, Cap Classique wines spend a minimum of 12 months on the lees giving the wines real depth and complexity with the ultra-premium prestige wines ageing for 3+ years on the lees. Whatever your sparkling wine preference, there will be a bottle to suit you as they range from the very dry (Brut Nature) to the dry (Brut) to sweeter end of the scale (the Demi-Secs now commonly known as 'Nectar').
When is the best time to drink Cap Classique wines?
Cap Classique encapsulates everything the South Africans love – experiencing great moments with friends and family with good food and a glass in hand. In South Africa these wines are not saved for special occasions but enjoyed whenever the time feels right. Now, more than at any other time, we need no excuse to open a bottle of something delicious as we start sharing special moments together again.
This year promises to be the summer of the picnic and there are few nations on earth who enjoy the great outdoors more than the South Africans so now it's time to channel the South African spirit. Whether you are planning a laid-back lunch or a gourmet extravaganza a bottle of Cap Classique will elevate your picnic to something special.
How to match Cap Classique wines with your picnic?
These wines can be enjoyed on their own but the versatility of Cap Classique's many styles and complex flavours shout out for a food pairing. Everyone has their own preferences and one of the many pleasures of enjoying wine is finding your own perfect matches. However, a few great picnic pairings are suggested below…
The citric notes in the Blanc de Blancs (made exclusively from Chardonnay) are a classic pairing with seafood or creamy cheeses such as camembert
Try the seriously food-friendly rosés matched with roast lamb or a stronger-flavoured fish such as salmon on the barbeque.
Vegetarian dishes containing the earthiness of mushrooms go brilliantly with a Blanc de Noirs (a white sparkling wine made with red grapes such as Pinot Noir)
A classic cuvée can take centre stage with cold chicken drumsticks or oily fish such as smoked salmon.
No picnic is complete without pudding and one of the sweet styles such as the demi-sec (Nectar) is a great match for something chocolatey or a fruit-based dessert.
Where can I buy Cap Classique wines?
There are 84 South African wineries currently producing Cap Classique wines but look out for these wines online or at your local merchant:

Where can I buy Cap Classique wines?
Cap Classique wines are available at independent wine merchants across the UK as well as in supermarkets. Please see a list of stockists below by region so you can visit your local merchant to buy a bottle.
South West
Michael Sutton Cellar, Nr Dartmouoth
Newton Wines, Crediton, Nr Exeter
Perold Wine Cellar, Chewton Mendip
The Dorset Wine Company, Dorchester
South East (exc London)
South Down Cellars Wine, Hurstpierpoint
The General Wine Company, Petersfield & Liphook
London
Lea & Sandeman, Chelsea & Kensington
The Savanna, 8 stores across London
Channel Islands
Midlands
Decanter Spirit, Bromsgrove, Leamington Spa
Saxtys Wines The Secret Bottle Shop, Hereford
North
Carruthers And Kent, Newcastle-upon-Tyne
The Whalley Wine Shop, Clitheroe
Scotland
Wales
Cheers Wine Merchants, Swansea
ND John Wine Merchants, Swansea
Nationwide
Sainsburys
Online
The South Africa House of Wine
All members of the Cap Classique Producers Association are committed to sustainable viticulture practices.
Share your 'classique moment'
Whether being reunited with friends, meeting a new addition to the family or simply raising a glass to being able to socialise again, there is no better celebration drink than a glass of South Africa's leading sparkling wine, Cap Classique.
Share your 'Classique Moment' on instagram and tag your friends and family using the hashtags:
#capclassique #capclassiquemoment #capclassique50 #perfectedbytime
#spectacularsouthafrica #drinksouthafrican

For more information, visit www.capclassique.co.za or email marketing@capclassique.co.za.
Instagram: @Capclassique_SA
Twitter: @Capclassique_SA