Chardonnay
By Jamie Goode | 3rd June 2019
Of all the white grape varieties, the one that has travelled the world most successfully is Chardonnay. It's incredibly versatile, capable of making wines ranging from the steely dryness of Chablis, to rich bold oaked Chardonnays from warm climate regions. And then there's the role it plays in making sparkling wines, too. Another aspect of Chardonnay that is noteworthy is the way that it marries so well with oak. It responds well to being fermented in small oak barrels, and the flavour of the grape seems to mesh with the imprint of new oak.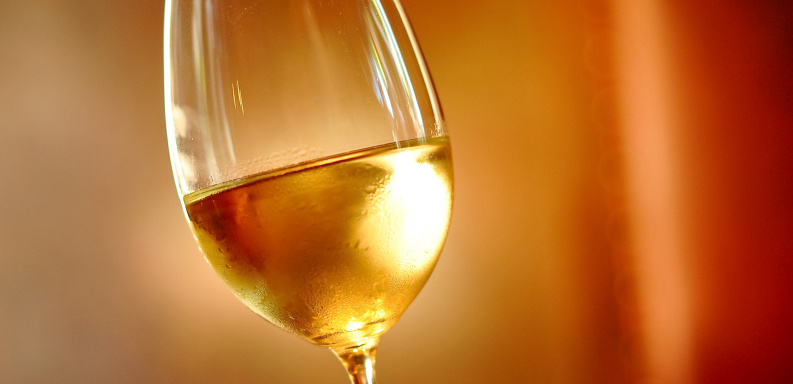 Winemakers love to work with Chardonnay. There are a lot of winemaking choices involved, and while terroir – the influence of the vineyard – is of course important, with Chardonnay winemaking seems to play a bigger role than with other white varieties.
Once the grapes come into the winery, the first decision surrounds pressing. In South Africa, almost all grapes are hand-picked into small crates of around 18 kg. It's much better for quality to press at low temperature, so it's not uncommon to store the crates overnight in a cold room, and then press the next day. Some people like to press whole bunches, while others destem first. Whole bunch is generally thought to yield better juice. As the juice comes out of the press, one choice is whether or not to protect it from oxygen. Typically winemakers will protect Sauvignon Blanc juice, but they allow Chardonnay juice contact with air, and it turns a worrying-looking brown colour. This is because phenolic compounds are being oxidised, along with other compounds in the juice such as fruity esters. For Sauvignon this might be a problem (fruity esters are important for this grape), but for Chardonnay most of the desirable aromas are produced during fermentation, and if you get rid of the phenolics at this stage the wine is more stable and long lived later on because they are involved in oxidation of wine.
Another choice is how much to settle the juice after pressing. It's normal to allow the juice to settle overnight before decanting it to the fermentation vessel (a barrel or tank). Sometimes enzymes are added to help the juice settle. While some people like to ferment very clear juice, others quite like murkier, dirtier juice with more solids. If the juice is too clean the yeasts might have too little nutrition, but if it is too dirty the resulting wine can be a bit reduced. Reduced refers to the presence of volatile sulfur compounds such as sulphides and mercaptans, which are faults in some cases but are desirable in others, especially in Chardonnay where a touch of struck match minerality from some reduction is highly prized.
When it comes to fermentation, it is common to use small oak barrels. There are lots of choices here. Some winemakers add cultured yeasts, while others prefer to let the wild yeasts do the job. The choice of barrel, and the mix of old and new oak, is another key decision. All barrels are different, and new ones contribute toast, vanilla, cedar and spice flavours. Increasingly, winemakers are using larger barrels – 500 litres as opposed to 225 or 228 – because of their more subtle oak imprint. Then, after the first fermentation (where yeasts produce alcohol as well as other flavour compounds), there's a decision to be made about the second fermentation (malolactic, carried out by bacteria). Some allow full malolactic, others only partial, and some none at all. In warm climates, it is often avoided because of the need to preserve acidity (malolactic reduces acidity and softens the wine a little, as well as producing some flavour compounds).
Combine smart winemaking choices with grapes from good vineyards, and the results can be fantastic. And South Africa clearly has smart winemakers and some very good Chardonnay vineyards, and this is now an exciting category here.
These are some regions and wines to look out for.
Elgin is a region with a strong reputation for Chardonnay. It's one of the cooler sites in the Western Cape, and the result is some flavour-filled grapes with good levels of acidity. For the last few years Elgin has been home to the Chardonnay colloquium, bringing together great Chardonnays from around the world, as well as the best examples from the region, in blind tastings.
Paul Cluver Seven Flags Chardonnay, Elgin
This is an ambitious wine from the talented Andries Burger, winemaker at Paul Cluver. It's powerful yet precise, and has good ageing potential.
Richard Kershaw Clonal Chardonnay, Elgin
The one-time Mulderbosch winemaker has created quite a reputation for his Elgin-sourced Chardonnays over the last few years and these are now recognized as world class. They aren't cheap, but they are worth it.
Hemel-en-Aarde is another cool-climate region producing stunning Chardonnay.
Crystallum Clay Shales Chardonnay, Hemel-en-Aarde Ridge
Peter-Allan Finlayson is making stunning Chardonnay and Pinot Noir under his Crystallum label. This is elegant and refined, and worth seeking out.
Restless River Ava Marie Chardonnay, Hemel-en-Aarde
This is a beautifully focused Chardonnay from a self-taught genius, Craig Wessels. Sought after and ageworthy.
Stellenbosch is emerging as a great source of Chardonnay, as you might expect from the country's premier wine region.
Capensis Chardonnay, Stellenbosch
Primarily from the Banhoek Valley, this is a collaboration between Jackson Family Wines (California) and Anthony Beck (of Graham Beck). Winemaker Graham Weerts is very excited about the potential of the Cape for Chardonnay, and the first release shows that this is justified.
Leeu Passant Chardonnay, Stellenbosch
One of two excellent Chardonnays from superstar producer Leeu Passant, this comes from a well situated vineyard on the Helderberg and it shows great complexity.
Longridge Clos du Ciel Chardonnay, Stellenbosch, South Africa
This is from a small vineyard high in the slopes of the Heldeberg that was planted in 1988 by John Platter. Close planted vines on decomposed granite result in a tight, focused wine with lovely personality.
Robertson
With its limestone soils, Robertson has been an important figure in the South African Chardonnay scene, initially for still wines, but increasingly for sparkling, too.
De Wetshof Bateleur Chardonnay, Robertson
One of a range of impressive Chardonnays from this producer, who were one of the pioneers of South African Chardonnay. Profound and long lived.
Graham Beck Blanc de Blancs, Robertson
This sparkling wine is one of the country's top examples, showing off Chardonnay at its bubbly best.
Franschhoek
Some people dismiss this region as a tourist trap, but while it is exploited by some larger producers who have cellar doors here selling out of valley wines, there are also some serious players here making Franschhoek wines.
GlenWood Chardonnay Grand Duc, Franschhoek
From the Robertsvlei valley, this is an impressive wine from winemaker DP Burger that's rich but focused.
Moreson Mercator Chardonnay, Franschhoek
Rich but balanced, this is a lovely example of Chardonnay from one of the valley's top producers.