Durbanville beyond sauvignon blanc
By Angela Lloyd | 20th July 2022
There are regions in South Africa where a single variety lays down its claim to suitability and quality. Sauvignon blanc and Durbanville is one, where this variety accounts for more than half the area under vine.
But Durbanville's wine portfolio extends beyond sauvignon blanc with some interesting, often niche varieties.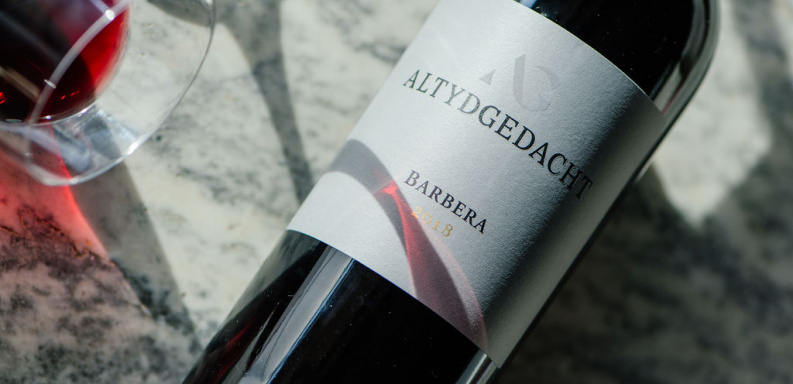 Altydgedacht is one of few producers with either gewürztraminer or barbera in their range. Winemaker Helgard van Schalkwyk explains the former performs well due to the cool climate, well-drained soil and average rainfall; 'Even ripening and a very aromatic wine are the benefits.' The wine has always been dry, but today at a still-dry 4.5 grams, Helgard believes it has 'beautiful richness that pairs well with spicier dishes.'
As one of the first farms to plant barbera in 1920, Altydgedacht was also the first to produce a varietal wine in 1992. Again, the cool conditions suit it, as does Helgard's gentle treatment, ageing in larger, barely toasted barrels to preserve the fruit and sometimes chilling the newly-fermented wine to help drop the natural high acid for easier drinking. Pairing with food – gewurz with spicy food and barbera with tomato-based dishes – is Helgard's answer to persuading consumers to enjoy these wines.
Durbanville's only riesling comes from Nitida, where winemaker, Etienne Louw claims the cool microclimate encourages longer ripening, increasing flavour concentration and protecting riesling's natural acidity, an attribute which supports the fruit and occasional high residual sugar levels. His preference is for a little residual sugar and also a suggestion of botrytis. While there's strong demand in the US, Etienne acknowledges locally 'our riesling is very much a hand-sell, where cellar door offers the opportunity to introduce the wine to newcomers.'
Pinot noir might not be such a niche variety in the region, often being blended in Cap Classique bubblies, but it is less common as a varietal table wine. Like the others, Meerendal's Cellarmaster, Wade Roger-Lund acknowledges the cool climate as an important factor with winter's cold units and the dryland vineyard giving great colour and concentration 'but still delicate fruit.' The aim is a serious wine with exuberant fruit and elegance. As a non-mainstream and higher priced variety, it's not familiar to many wine drinkers; Wade suggests they might try a subtle, lighter style to encourage greater familiarity with pinot.
As De Grendel's Charles Hopkins admits, viognier is also not a mainstream variety; their one vineyard, to be certified organic in 2023, is surrounded by trees to protect it from the wind. Typical varietal character arrives when the berries shrink and turn light orange but the sugar & subsequent alcohol will be too high; 13.5-14% alcohol is Charles' goal in a lightly wooded style from 50/50 tank and barrel ferment. Most is sold from the tasting room.
If it's unique you seek, then Thys Louw's Diemersdal Gruner Veltliner is your number. Family holidays in Austria introduced then young Thys to and enthused him for the variety; he eventually imported and planted gruner vines after the required five years' quarantine. The original 40 vines have multiplied to 7.5 ha (there's also a little grown in Constantia, Elgin, Simonsberg Paarl) but this is the sole bottling so far. Unoaked with six months on the lees, Thys compares the fruit to a bit of sauvignon, riesling, unoaked chardonnay, 'so ticks all the boxes'. Even the Austrians who've tasted it are excited, as are the English and Americans who import every bottle possible. If you can, Thys's advice is best keep it two years before drinking.