Fairtrade
By Jamie Goode | 11th August 2021
How much do you think about the people behind what you eat and drink? And are your purchases something you consider to be an ethical choice?
I suspect that most of us don't really dwell too long on the various commercial transactions that go on between farm and supermarket shelf, but sadly too often there is an imbalance of power in the various relationships. Large supermarkets control the route to market for many farmers, and so when it comes to negotiations, they are able to squeeze hard until there is no profitability left for those who actually produce what we eat.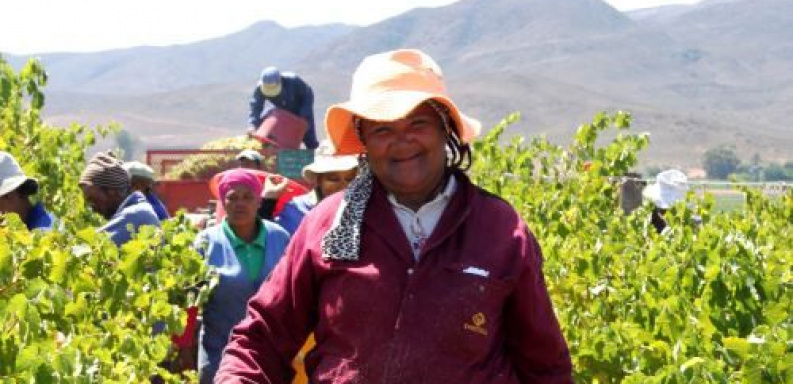 This is deeply problematic. Unless consumers have access to information that isn't readily available to them, how can they shop ethically? And if we keep going for the cheapest – the best deal – then how can farmers do the right things when it comes to protecting the environment? Often, they are struggling to survive, so they pay low wages, and they farm the cheapest way possible. Neither of these practices are sustainable.
Growing wine grapes and making wine is labour intensive, but as with many agricultural activities, there are frequent problems with low wages and poor working practices. And this issue of profitability is at the root of the problem. Where agricultural products are transformed into a commodity, there's a race to the bottom in pricing when there's an adequate supply or a surplus, because all the cards are held by those who control the route to market.
This is where Fairtrade comes in. This is an international organization, that offers certification. The certification process concerns workers rights (safer working conditions and fairer pay), and also production standards (to protect consumers and the environment). It's an independent, not-for-profit organization.
Fairtrade currently certifies over 1700 producer organizations in 73 countries. Half of the farmers are involved in coffee production, and 40% in tea.
For wine, South Africa is the largest producer, and the others involved are Chile and Argentina, and recently one producer in Lebanon was added. Vineyards certified as Fairtrade receive at least the Fairtrade Minimum Price when they sell their wine (grapes), on Fairtrade terms. In South Africa, it is 2.19ZAR/kg (2.57 for organic grapes. In addition, the vineyards also receive a Fairtrade Premium (ZAR 0.06/kg in South Africa) which is paid on top of the sales price. The Premium is invested in improving farm practices, education, healthcare and training programmes that benefit farmers and workers, their families and communities.
In the UK in 2019 20.5 million litres of Fairtrade wine were sold. Of the UK's large retailers, M&S, Lidl, Tesco, Sainsbury's, Waitrose and Asda all stock Fairtrade wine, but the real champion has been The Co-op, who have listed a lot of these wines over the last few years.
South Africa has 24 Fairtrade producer organisations, and they account for over two-thirds of the Fairtrade wine sold each year.
It's necessary because of the social impact of the apartheid system, which persisted until 1994. One of its legacies was poor working conditions and bad labour relations. The relationship between landowners and workers was often a paternalistic one, and the horrible dop system where workers were part paid in wine led to widespread alcoholism. Often, housing was inadequate, and tied to employment.
Fortunately things have changed a lot, but the existence of Fairtrade certification has made this change explicit and visible to the consumer at point of sale.
Which wineries are involved? Lots of the Fairtrade wines are made by larger companies who then sell the wine as private label/own brand for supermarkets, but there are some brands or wineries who have Fairtrade in their range. These include Bosman, Fish Hoek, Kumala, Leapord's Leap, Vergelegan, Namaqua, Storm Hoek and Fairhills.
A few years ago on a trip to South Africa, I had an afternoon spare, so I visited one of the largest of South Africa's Fairtrade enterprises, Fairhills, in the Worcester region. I went to see a couple of schools and a community centre that had been provided through funds generated by this Fairtrade wine project.
There are three partners in Fairhills. First of all, the grape farmers who contribute to the du Toitskloof cooperative, where the wine is made. Second, the employees of these farms, who own a stake in the business. And third, Origin Wine, who market the wine in South Africa and abroad. The project began in 2005, and the first need that was identified was daycare, so this has been a high priority.
The Fairhills Onderplaas community centre is used for training, meetings, youth clubs, a womens' club and sports, as well as housing the Fairhills project offices. Fairhills also have three day care centres, providing for 210 children, and I visited one of them, the Tierstal centre. As well as looking after the children while the parents are working, education is also offered, along with two meals a day, plus safe transport and healthcare. The children are given education from an early age so that when they go to primary school, they have an advantage. I also saw the Lorraine Primary School, which is one of two primary schools sponsored by Fairhills.
Seeing the positive impact of Fairtrade through initiatives like this makes me think that we should be paying more attention to this certification. If we have enough disposable income to choose how we shop, then shopping really is an ethical decision. Retailers may sometimes hide the manufacturing and procurement side of the business, and not want us to ask too many questions, but the Fairtrade Mark on a bottle of wine gives us the information that we need in order to shop ethically.