HOW FAIRTRADE WORKS WITH PRODUCER ORGANISATIONS TO SUPPORT FARMERS THROUGH THE PANDEMIC
By Admin | 6th August 2021
South Africa is one of the most famous and well-respected wine growing regions in the world but it is no secret that workers and producers often struggle to make a decent living from wine and this is something the Fairtrade standards have worked to address. The problems were exacerbated when the pandemic forced South Africa into a national lockdown in March 2020. The Fairtrade Foundation's Mollie Letheren Smith looks at how Fairtrade supports the farmers and workers in the South African Fairtrade wine industry now and in the future.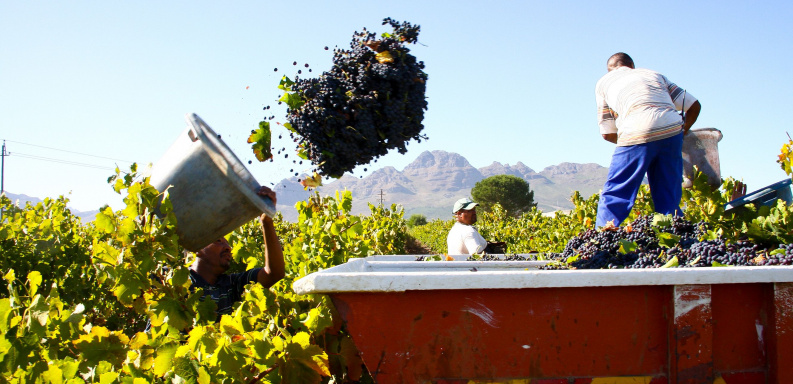 The South African winegrowing areas of the Western Cape, situated in the narrow viticultural zone of the southern hemisphere, mainly have a Mediterranean climate and the mountain slopes and valleys form the ideal habitat for the wine grape vitis vinifera, the products of which have given pleasure to people for centuries. Long, sun-drenched summers and mild, wet winters contribute to the ideal conditions for viticulture in the Cape.
South Africa is also the largest producer of Fairtrade wine globally, with 24 producer organisations, and accounts for around two-thirds of Fairtrade wine sales. But despite the perfect wine growing conditions, South Africa has been witnessing unique economic, social and political challenges. The pre-1994 apartheid system in South Africa limited the opportunities for economic advancement for the black majority of the population – the effects of which are still being felt over 25 years later.
SOUTH AFRICA, COVID-19 AND WINE
Almost 18-months after South Africa went into its first nationwide COVID-19 lockdown, the pandemic continues to hamper the efforts of wine producers to get the wine industry back on track. The pandemic has negatively impacted the industry as a whole, with many vineyards struggling and becoming non-profitable. Black-owned vineyards in particular have been affected.
The pandemic has hit the wider alcohol industry very hard which of course has had a huge knock-on effect on job security and wages. Both domestic sales and international exports were blocked for varying periods in 2020 and there have been repeated periods throughout this time where South Africans haven't been permitted to buy alcohol, so the situation continues to be dire.
Furthermore, with the inability to sell wine in the domestic market, many workers have lost their jobs – somewhere between 14,000 and 28,000 roles. Many of these workers were already vulnerable and now face additional economic challenges on top of the ongoing pandemic.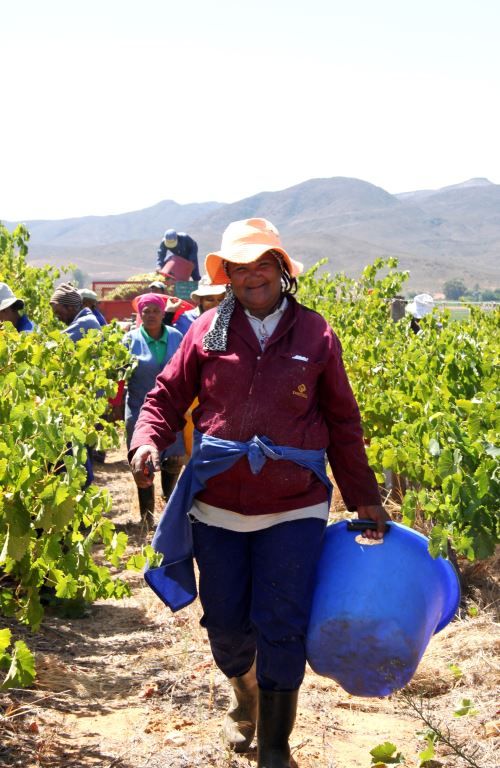 FAIRTRADE'S RESPONSE IN SOUTH AFRICA TO THE PANDEMIC
As a global system, with local producer networks, Fairtrade was well positioned to co-ordinate a response to the situation. As an immediate response, Fairtrade supported the distribution of face masks, hand sanitisers, infrared thermometers and personal protective equipment (PPE), and the distribution of COVID-19 pamphlets to workers and farming communities. In addition, Fairtrade supported its wine workers to apply for South African government relief funds.
Fairtrade also introduced flexible use of the Fairtrade Premium, allowing it to be used as cash to cover workers' wages and help prevent financial ruin and hardship. In the case of wine, as well as using the Fairtrade Premium to support worker's wages, it was also used to purchase food parcels and PPE.
As the pandemic gripped hold of the world in 2020, Fairtrade Africa and GIZ were able to offer extra support to 17 Fairtrade Certified farms in South Africa, and Bosman Adama was successfully selected for funding totalling R280,000. Bosman Adama, which produces Fairtrade wine for many UK retailers (sold in the UK at The Co-op and Sainsbury's), is one of the South African farms supported by Fairtrade, using funds to protect jobs, maintain salaries, and purchase food and sanitising hampers for every worker and their households. The Bosman Adama Fairtrade Premium Committee kick-started an awareness campaign focusing on COVID-19 safety, amongst other issues, including general health and substance addiction. The Committee purchased a PA system enabling speakers to educate communities safely and effectively.
On the donation, Elizabeth Julies, Chairperson of the Fairtrade Premium Committee, said:
'We were selected for this donation because our finances are well-audited and we have consistently shown good governance […] We have distributed all the donations so far, but we are planning to also give everyone a month's supply of Vitamin C to boost their immune systems against the pandemic before winter sets in.'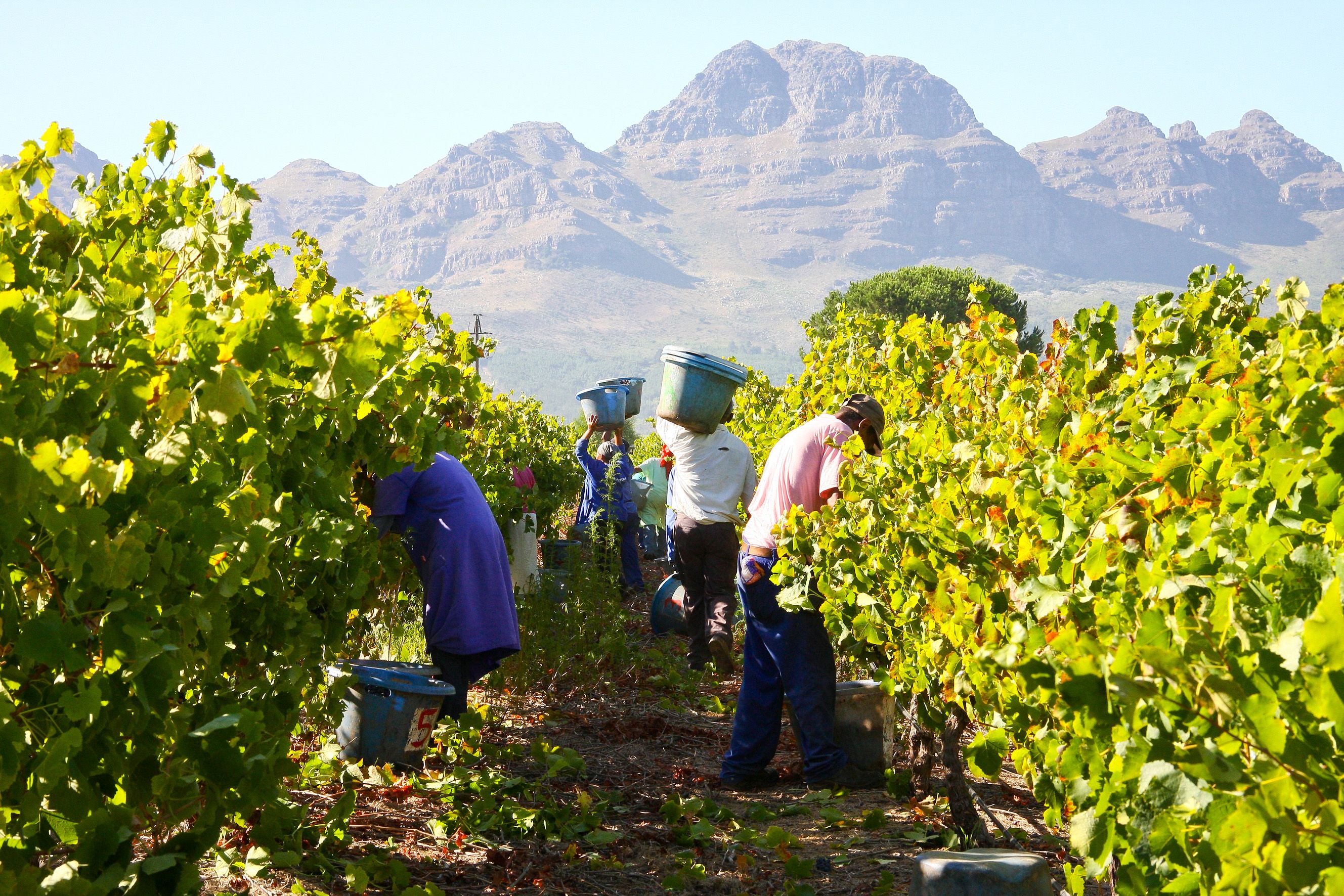 THE POWER OF FAIRTRADE IN WINE
Workers in South Africa's wine industry tend to be vulnerable for a number of reasons. These include low incomes, poor working and living conditions, and economic inequalities as a legacy of the apartheid system. The Fairtrade Standards work to address these challenges, so when you buy a bottle of wine with the Fairtrade Mark, you know you're helping to support transformation in communities and encouraging farmers to reclaim their autonomy.
The Fairtrade Standards ensure all workers, regardless of race, work in safe conditions, and receive a minimum income. Workers growing the grapes that go into Fairtrade wine receive an additional Fairtrade Premium, which they can decide how best to spend for the benefit of their communities. In 2019, the 20.5m litres of Fairtrade wine consumed in the UK alone generated over £1m in Fairtrade Premium.
Through the Fairtrade Minimum Price and strategic investment of the Fairtrade Premium, Fairtrade wine empowers producers and equips them to manage shocks such as global price drops or extreme weather events. The pandemic was an unprecedented shock but belonging to the Fairtrade system helped producer organisations to keep their communities safe, stay in business and build economic resilience. Fairtrade funds also provide transport and catering during training classes, but now that the classes are online, they have also released funds to upgrade the technology needed to take part.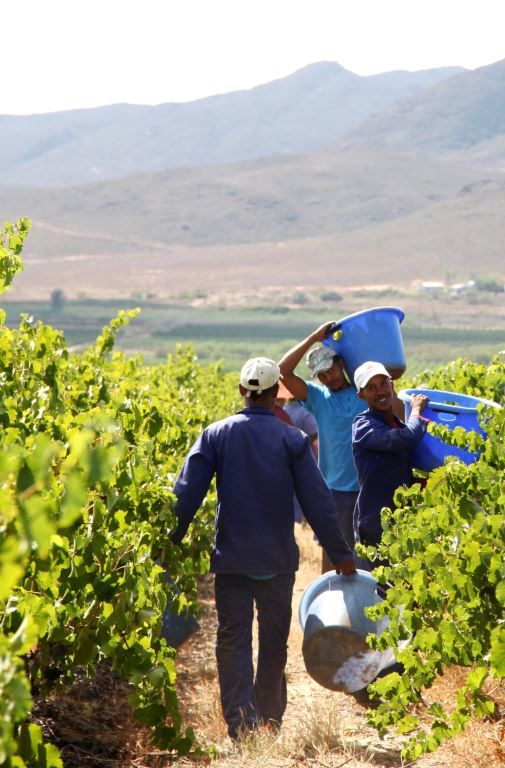 FAIRTRADE CERTIFICATION IN ACTION
Fairtrade certification and specifically the Fairtrade Premium, has a real impact in the wine growing and producing communities Fairtrade works with. Many farms are in rural locations where there is little or no public transport. Farm workers without transport risk becoming isolated and unable to participate in community activities. At Bosman Adama, where the workers own around 26% of the shares in the business, Dennis October has been a farm worker since 1989. In 2001 he started working as a driver:
'Some days I have to get up at 04h00 to take someone to the city for medical treatment," says Dennis, "but most days I start work at 06h00 picking up children for the crèche, taking the older ones to school and fetching them again; and in between we take people to the day clinic or for scheduled hospital visits.'
After hours, their busses are filled with children going to karate classes, or adults attending night classes or choir practice (of which Dennis is a proud member).
'I like to help the people in the community. Sometimes I have to be a husband or a father to people in difficult situations. That's tough, but I want to do it. The people know they can phone me any time, day or night, and I will help them.'
The three busses on the farm were purchased with Fairtrade funds, and these funds also cover the petrol costs, maintenance and drivers' salaries.
BUILDING BACK BETTER
The South African wine sector is increasingly looking to sustainability and ethics as a form of differentiation as well as recognising the importance of this for the future of the sector. In recent years, the branding of South Africa's wine industry has increasingly focused on transformation, such as
South African wine-making in the 21st century has an ethos guided by traceability, sustainability, and ethics (the example of being the first Fairtrade wine producing country)
The importance of sustainability was shown to be relevant during the 2017 Cape droughts
COVID-19 demonstrates even more the importance of a sustainable and ethical approach to wine making (and agriculture more generally) - the industry will continue to build on the work it has done in the past in order to ensure a more sustainable future.
Fairtrade Standards are recognised worldwide as an indicator of social, environmental, and economic sustainability. Through Fairtrade, the South African wine industry can be sure that its ethical and sustainable ambitions, now and in the future, will be met.
Join us on Friday 27th August 2021 over on Instagram to learn more about the power of Fairtrade in wine.