Join the South African Wine Tribe and meet Kiara Scott (Brookdale Wines) and Andrea Mullineux (Mullineux Wines)
By Admin | 19th February 2021
The South African Wine Tribe is back with a bang on Wednesday 3rd March 2021 at 7pm (UK time). Our hosts, Dan Nicholl (Dan Really Likes Wine) and Greg Sherwood MW (buyer for Handford Wines), will be joined by winemakers Kiara Scott of Brookdale Wines and Andrea Mullineux of Mullineux Wines.
To take part in this online Zoom tasting you will need to purchase the three wines below from Handford Wines who have offered a generous discount. The three wines cost just £60 including delivery.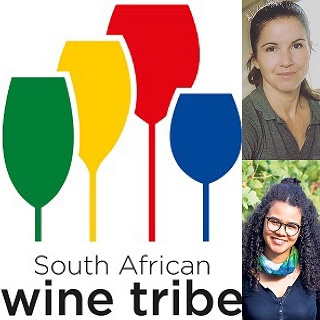 You will get to taste the following wines:
Brookdale Mason Road Chenin Blanc 2020
Mason Road is the second label Chenin Blanc from Brookdale Estate in Paarl. Made by winemaker Kiara Scott, a Cape Winemaker's Guild Protégé, this wine is pale straw in colour, the nose displays notes of pineapple, apricot, hints of honey and floral aromas. The palate is well integrated showing flavours of grapefruit and melon. It has a vibrant acidity balanced by creamy round texture and a lingering aftertaste.
Mullineux Syrah 2017
The aim with this Syrah is to give true and complete expression to the Shale & Schist and Granite terroirs in which the vines grow. Made by winemaker Andrea Mullineux, this perfumed Syrah has notes of spicy citrus rind, refined black fruit, violets and lilies. The palate is elegant and restrained with a silky texture balanced by a fresh, natural acidity. The finish is long with supple tannins. Best served at 16 to 18 °C, this wine will greatly benefit from decanting if drunk within the first 3 to 5 years after bottling.
Leeu Passant Cabernet Sauvignon 2018
Stellenbosch is a natural home for Cabernet Sauvignon and this wine represents the distinguished elegance and balance that the grape can exude here. This wine, also made by winemaker Andrea Mullineux, is an aromatic Cabernet which shows notes of cassis, tarragon, graphite and cedar on the nose. These notes continue on the palate and give a silky texture and there is great structure from the fine tannins. The richness and power of the wine are balanced by freshness and finesse. The finish is dry with lingering blackcurrant and blueberry flavours.
The winemakers, Kiara and Andrea, will be on hand to give you an update on their 2021 harvest as well as talk you through their wines.
Our friends at Handford Wines have given Wine Tribe members a fantastic 15% discount on the wines plus free delivery. For just £60 you can order the wines and join the tasting and this is a substantial saving of over £27 (usual price including delivery £87.97). Email Handford Wines to order your wines and don't forget to quote 'Wine Tribe' to get your special discount.
Join us as we delve into these elegant wines and give your support to two wonderful producers who are making world class wines.