Lockdown Cellar Raid
By Angela Lloyd | 14th May 2020
It's quite something to be the envy of most people in my street right now. Why? I have a wine cellar with wine in it. Under South Africa's Covid-19 lockdown rules, alcohol sales have been banned since 26th March. Those without cellars find stocks are running low, if not already run out.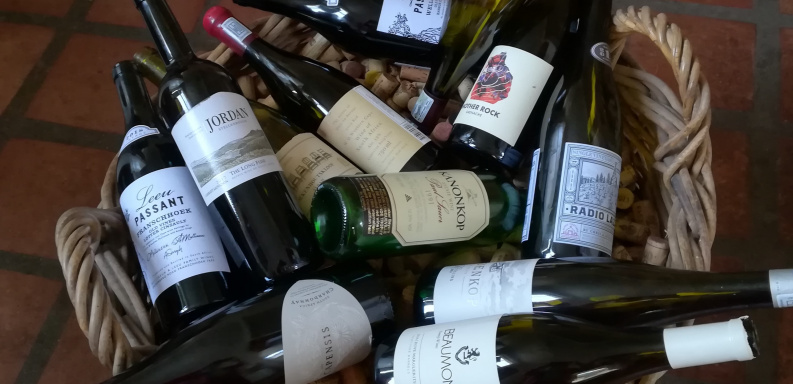 These strange times have brought into focus bottles around the cellar I eye regularly, but put off opening until that special occasion. It seems now or never to enjoy them. But our current circumstances have prompted something else.
One skill everyone in wine is going to have to master is online marketing and e-commerce. There will be wine launches via Zoom, an experience Chris and Andrea Mullineux brilliantly executed with their latest vintage Leeu Passant range. (Skill in simultaneously tasting, making notes and paying attention to presenters will also need to be mastered.) The new single-vineyard, old-vine Cinsaults, exotically perfumed from Wellington (planted 1900), tightly-built and spicy from Franschhoek (1932) are fantastic individuals.
Another Zoom discussion, organised by Elsenburg College, featured South African, Graham Weerts, winemaker for Jackson Family Wines in California. Capensis Chardonnay, the Anthony Beck, Barbara Banke project, has been made by Weerts since 2013. I was impressed by the benefits of seven years' ageing on the bottle I'd kept.
April's many sunny, warm days have called for Riesling. Paul Cluver Riesling 2010, my last bottle, would've raised anyone's spirits. Brilliant colour, exhilarating, with joyous spiced citrus and tropical fruit and just 11% alc. Spioenkop Riesling 2013, a degree more but austere, intense citrusy persistence with almost lip-curling bone-dry finish, so better with food and more time. Still, so good. Both from Elgin, where Riesling deserves further attention.
A cooler evening suggested an older red and a rare dip into my precious hoard of Boekenhoutskloof Syrahs. At 17 years of age, 2003 lived up to this excellent vintage. South African reds can age, few mature with more complexity and interest as this one.
Vintage 2017 is another excellent year, some say better than 2015; improved viticulture and vinification played as important a role as the weather. Stellenbosch Cabernets promise grand maturity; there are succulent, ripe grape tannins, balanced by rich fruit and freshness. Jordan Long Fuse Cabernet 2017 is just one of many to come; already delicious, it deserves a place in every cellar.
As much as I love Cabernet, South Africa's diversity is too exciting not to explore. Johan 'Stompie' Meyer's Mother Rock Grenache 2016 was a surprise find (in the Pinot Noir bin!); it typifies today's lighter, fresher style with minimal oak influence and plentiful deliciousness. Grenache is a blending partner with Syrah, Cinsaut and Mourvèdre in Duncan Savage's 2012 Red, also an increasingly popular style, which doesn't need years to mature (though this was perfect) and provides flavoursome drinking. Real soul food!
Then, what would any cellar be worth without a few Chenin Blancs – and so much else besides?
A cellar is a life-saver in these alcohol-banned days, it can also remind us how well many South African wines, both white and red, can age.