Meet Kiara Scott of Brookdale Estate
By Malu Lambert | 12th November 2020
With her wild curls contained under a bucket hat, fresh-faced Kiara Scott looks every bit of her 28-years. That is to say youthful, and full of energy. She's speaking to me from her lab at Brookdale wine estate in Paarl, mystifying formulas are scribbled on the white board behind her.
"Whatever you thought was normal I was doing the opposite of that," she shares. "I was a crazy kid, jumping over fences and that kind of thing. Always questioning. I was very inquisitive, I wanted to do everything that people weren't doing."
Kiara grew up in Mitchells Plain, an impoverished area suffering under the socio-economic fallouts of things like gangsterism, drugs and alcohol abuse.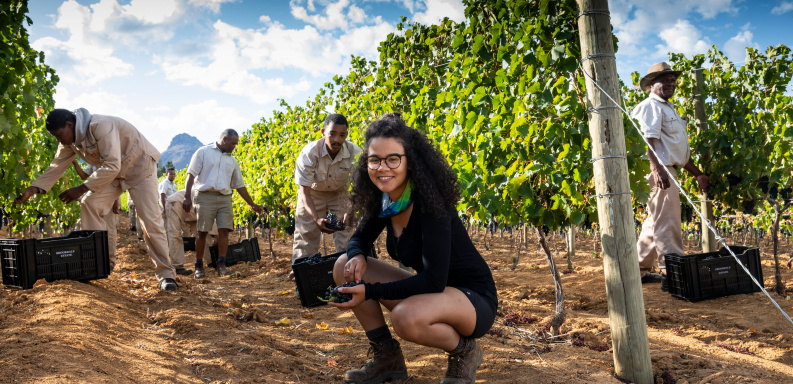 "I didn't even know that winemaking was a career to be honest, I thought wine just came from the shop." What she did know is that she didn't want to be like the people of the neighbourhood, 'aimlessly hanging around on street corners'. A guiding light came in the form of her grandmother. "She enjoyed drinking wine – she taught me you can have respect for it.
"Wine tickled that part of my brain that's always curious. What is it about this drink, why do people enjoy it so much? In the beginning it was about the chemistry of it."
Slowly the idea grew, insistently. "I was either going to be a musician, lawyer or winemaker. I'm very passion driven." Luckily for the industry, wine won out. She was accepted into Elsenburg Agricultural College, where under the tutelage of Lorraine Geldenhuys, she learnt the ropes from the ground up, learning every facet of the business, from scrubbing tanks to capturing analysis.
"We were pushed to the limit. If you go past what you think is your limit, you reach new levels," she wisely comments.
In her final year a representative from the Cape Winemakers Guild Protégé Programme came to see her.
She was offered a bursary from the Trust arm of the Guild and soon the round of interviews to be accepted into the Protégé Programme began.
An incubator for future leaders in the South African wine industry, the three-year internship provides aspiring winemakers and viticulturists the opportunity to work alongside and be mentored by the members of the Guild. Since its establishment in 2006, 30 winemakers and viticulturists have participated in the Protégé Programme.
"They ask you a lot of questions," laughs Kiara. "It was often quite intimidating, you'd be sitting in front of a panel of these famous winemakers and they would ask you to taste a wine and tell them how it's made.
"We went for psychometric tests, they were thorough. You needed to be someone they could invest in.
During the programme she worked with David Nieuwoudt of Cederberg Wines, Charles Hopkins of De Grendel Estate and Carl Van de Merwe at DeMorgenzon, complete with regular tastings and courses. "Without the programme it would have taken me much, much longer to achieve what I have."
During this time she also worked harvests in the Rhône Valley, Sancerre as well as the Russian River Valley.
To this day Kiara says she has her mentors on speed dial. "They get to know you, it becomes a support system. I can call on Charles Hopkins, David Nieuwoudt, Duncan Savage, Bubbles, Gottfried Mocke – they always have time for me."
A network she uses to her advantage, homing her craft. "In winemaking you never know everything, you're always leaning. If you think you know everything you're in a dangerous place."
When she completed the programme Duncan Savage offered her a job, at his urban winery Savage Wines in Salt River, Cape Town.
"Duncan, he's great, what can I say," she says with a big smile. "I learnt a lot from him and I still learn from him, everything from wine business to working in the vineyards. He taught me to really care about attention to detail.
"He also trusted me a lot in the cellar; I'd be the one receiving the grapes, doing the processing. I so appreciate that he allowed me to spread my wings, and that he always wanted me to give my input."
Becoming winemaker at Brookdale Estate was a natural progression, with Duncan already being the consultant winemaker, she slowly got involved in the vintages from bottling to assisting with the winemaking, getting to know owner, Tim Rudd.
"It was a no-brainer," she says with a shrug about when Duncan and Tim approached her about the position of winemaker. "Without realising it, I had been gradually transitioning to the role."
How does it feel to be in this dream position? "I like to play it down, because it still feels weird, because essentially it's not just one person – there are a lot of people that have made this happen."
The wines are already getting a lot of attention, as is Kiara. I have a glass of the 2019 Mason Road Chenin Blanc in front of me, the second tier to the very successful 2017 Chenin Blanc that sold out quickly as soon as it entered the market.
Currently they are building the winery and tasting room at Brookdale and are continuing with planting programmes, all of which Kiara is intimately involved with. Last year, when travelling was still a thing, she did a tour of the Douro, learning about the traditional planting and making of field blends in true Portuguese style. Since then Brookdale has an interplanted block of around 16 white varietals, with grapes such as marsanne, roussanne, grenache blanc, grenache gris, picpoul. Next year they plan to start planting a red grape vineyard of the same kind.
"The plan is to make Paarl great again," laughs Kiara. We have amazing granite, clay and schist soils, which lend a distinct freshness to the wines. Paarl made some great wines back in the day; we can get it back to that place."
Looking back what does she want to say to that questioning, inquisitive girl who jumped over fences? "Continue being authentic. You know under this cap there's a lot of hair, I didn't see woman like me in the wine industry, it made me nervous – but it's ok to be different, it's ok to want to do things that other people don't want to do.
"When I used to work in the Cederberg, I did all the heavy lifting right along with guys. How else could I be taken seriously? I couldn't sit in the corner. I don't regret pushing myself, going beyond. As a woman you have to work twice as hard in the wine industry. You need to be able to do it and do it better
"There's a lot of growth still to happen, and growth is not comfortable, I'm mentally prepared for that. Every day I learn something new."