New Luxury Hotel For UK's South African Wine Experience
By Admin | 26th April 2022
Visitors to Leonardslee Lakes and Gardens, near Horsham in West Sussex, can enjoy a luxury overnight stay after visiting the Grade I Listed woodland estate and experiencing the multi-course tasting menu at Restaurant Interlude, where South African Executive Chef Jean Delport recently won a Michelin Star for a second consecutive year.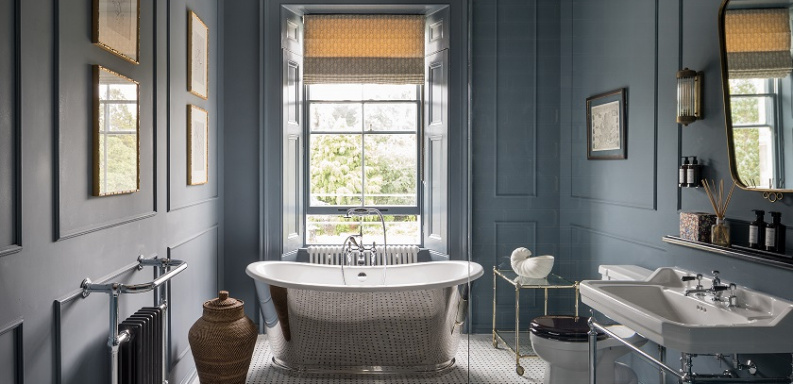 Owner Penny Streeter OBE has created a showcase for South African wines, with an extensive wine list, including from her own vineyards at Benguela Cove Lagoon Wine Estate, Hermanus.
Grade II Listed Leonardslee House, built in an Italianate style in 1855, now features ten charming en-suite bedrooms, newly created on the first floor. They are accessed by the magnificent hallway and galleried landing, which is bathed in natural light from an original domed atrium.
The great Victorian plant collector Sir Edmund Loder purchased the estate in 1889 and planted the extensive gardens and exotic flora that create the estate's charismatic charm, offering guests a holiday break to remember.
Each bespoke bedroom features the fabric and wallpaper style of a quintessential British interior design house, overseen by the Johnston Parke Interiors studio and architects Gould Baxter. This creates an immersive experience for guests, with classic themes by some of the best known and loved British designers.
The rooms feature superb views over the extensive lawns, down to the 240-acre historic woodlands and across to the South Downs.
"The new accommodation extends the range of visitors who can visit and now stay overnight, to enjoy the full Leonardslee experience - the beautiful gardens, classic afternoon tea, wine tastings and dinner at Michelin Star Restaurant Interlude. Perhaps too to take in a round of golf at our neighbouring property, Mannings Heath Golf and Wine Estate close by," says Penny Streeter.
Leonardslee House. Ten rooms, from £350 per night.
Michelin Star Restaurant Interlude
Executive Chef Jean Delport says that Restaurant Interlude's multi-course tasting menu is inspired by the woodland gardens with ingredients foraged or grown on the Leonardslee estate, or sourced from selected local farms. The ambience is of an intimate dining experience within the estate's Italianate mansion, with a self-playing piano to greet guests on arrival for cocktails in the bar.
Interlude dinner guests can enjoy a seasonal menu that might include estate rabbit, winter purslane, hogweed cider and charcoal; also, fallow deer venison with local braai and sour raspberry, or oyster, foraged greens and juniper.
The restaurant features award-winning wines from the owner's South African vineyards at Benguela Cove Lagoon Wine Estate. In the daytime, guests can also enjoy wine tastings and tours of the Pinotage vineyard that was planted at Leonardslee in 2018, the first commercial planting of this varietal in the UK. The 3.1-acre vineyard will produce 4,000 bottles in 2022.
Penny Streeter OBE brought Executive Chef Jean Delport from his native South Africa to open the restaurant in October 2018. He is only the second South African chef to win a Michelin Star, and one of the youngest recipients, then aged 32. He says:
"Interlude connects lovers of fine dining with the very spirit of Leonardslee. Every dish in each seasonal, multi-course tasting menu is designed to a hunter-gatherer concept of food that's foraged, cultivated and raised on the estate or close by. It is savoured and enjoyed as an intimate dining experience, almost a dinner party within the estate's beautiful mansion house."
Leonardslee House also hosts a highly popular afternoon tea in the daytime, with a classic and a savoury menu, cooked and prepared by the Michelin Star kitchen, with produce sourced from the estate and locally. Menus include home-baked raisin and plain scones, patisseries and then a choice from the cake trolley.
Restaurant Interlude Sample Menu £145. Open Thursday to Sunday, seating from 6pm
Leonardslee Lakes and Gardens Estate
The 240-acre Leonardslee woodland estate was established by the Loder family, the great Victorian plant collectors, who collected trees and shrubs from all over the world. The collection is exceptional in its diversity and maturity, with several rare 'champion' trees, threatened in their natural habitat.
The woodland gardens are designed around seven interlaced lakes set in a steep valley, offering a variety of walks with stunning views - and now a new sculpture park around the lakes featuring the largest outdoor exhibition by one artist this year, Anton Smit.
There is an acclaimed Pulham rock garden built in 1890, a deer park and a colony of wallabies wandering the estate. Visitors can also see the popular dolls' house exhibition, which depicts the Edwardian era estate and neighbouring villages at 1:12 scale.
There is an on-site cafe and garden and gift shop, with a year-round programme of visual, music and performance arts, including crafts fairs, pop-up restaurants and other entertainments.
Braai event
South Africans and lovers of South African wines and braais are invited to Leonardslee's sister estate Mannings Heath Golf and Wine Estate, just three miles away, on July 3rd for Family Braai Day. Guests can relax on the terraces and soak up the summer sun with friends and family, while making new friends from the South African diaspora that who are expected on the day. The event will feature live entertainment, and children can enjoy Kubbs, tennis, football, and other fun-filled activities.
Tickets must be booked in advance: Adults: £18 | Kids under 12 years: £10 | Date: 3 July 2022 | Time: 12:00pm, July 3rd.