New start, fresh beginnings
By Fiona McDonald | 16th December 2021
Christmas came early for Klein Goederust in Franschhoek. There was singing, ample food and prayer at the launch of its tasting room and restaurant. Standard fare for wine openings – but this one was different because it was Franschhoek's first black-owned property to open its doors to the wine loving public.
The location of this 10 hectare wine operation could not be more prime. It's on the R45 strip into Franschhoek, right next door to La Motte and Leopard's Leap and a stone's throw away from the popular Hey Joe brewery too.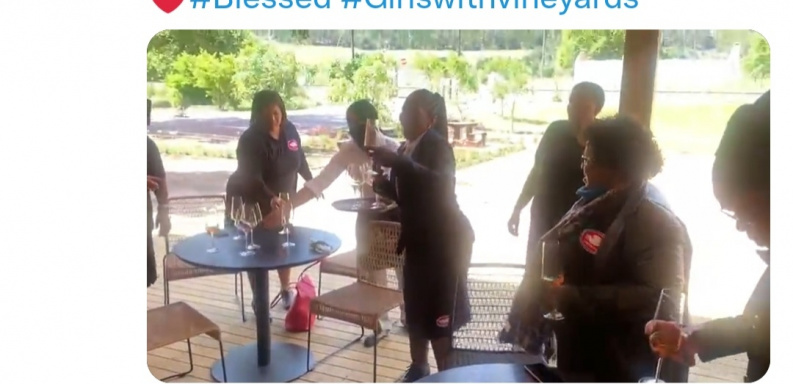 It's been two years since it the rundown property was purchased in 2019 by businessman Paul Siguqa and his wife, Makhosazana Zwane-Siguqa, executive editor of True Love magazine.
Land ownership is a thorny issue in South Africa at the best of times, and becoming a property owner in the wine sphere is an optimistic goal even for the most monied business elite, regardless of colour, often seen as ROE purchases (Return On Ego) rather than ROI (Return on Investment).
But this is no vanity project for Siguqa. It's a long held desire finally come to fruition. Perhaps the biggest achievement in becoming a vineyard and wine brand owner is doing so in the midst of a global pandemic in which even long established wine businesses have suffered under alcohol sales bans. It was a "dream come true" scenario for owner Paul Siguqa, whose mother worked at Backsberg in Paarl.
Siguqa said in interviews that he recalls his mother working in the vineyards before having her hard work and talents recognised and being promoted to work in the winery, the sparkling wine cellar specifically.
"The biggest barrier for black people entering this kind of space is access to land and affordability. I acquired the place through many years of savings; this is not a government funded farm," Siguqa said – even though he was extremely grateful to have been gifted a tractor at the official opening by the Western Cape department of agriculture head Dr Ivan Meyer.
"Producer support and development is one of my Ministerial Priorities," Dr Meyer said. "(The) handover is in addition to the Western Cape Department of Agriculture's (WCDoA's) earlier contribution towards upgrading the irrigation system required for the 5.5 hectares of wine grape planting established this year. Further support is also provided by the WCDoA's extension and advisory services."
Meyer said agri-business such as Klein Goederust had an important role to play in furthering job creation within the Western Cape agricultural sector. "So far we have managed to create 17 jobs," Siguqa said. Possibly the most important job belongs to Rodney Zimba, the winemaker – but even he knows that when it comes to the bubbly, his tastebuds defer to Paul's mother!
In a CityPress interview last year Khosi Zwane-Siguqa said: "Mama makes a killer MCC!"
"When we were making the MCC, we would go to her – and she sent us back to change things six times! She'd say 'too bitter' or 'too sweet', because she knows exactly what goes into the perfect one." Zwane-Siguqa's brief to her mother-in-law was a daunting one: "I told her I wanted us to get the taste as close to my favourite Champagne as possible." So no pressure for Zimba then … but with years in the vineyard and cellar at Noble Hill, he knows his stuff.
The cap classique is brut is style and appropriately is named Nomaroma, a fitting tribute to the Siguqa matriarch. "The neighbouring farms have warmly welcomed us, shown support," said Paul Siguqa, citing the neighbouring La Motte wine farm owners as extremely helpful and mentors.
The Siguqa family are blazing a trail in the Franschhoek valley – and in the South African wine fraternity too, joining the Rangaka family of M'hudi wines in Paarl, Moosa family of Paardenkloof in Bot river and the Adama Trust grouping in Wellington in owning their own "means of production" as envisioned by the Freedom Charter of 1955.
"We now need more support from customers. The goal is to create more jobs and get more land for production."