Q&A with winemaker Maggie Immelman, winemaker at Darling Cellars
By Admin | 2nd April 2019
Maggie Immelman is the winemaker at Darling Cellars. Here are 10 questions that delve into why Maggie chose winemaking, what makes her tick, her hopes and challenges.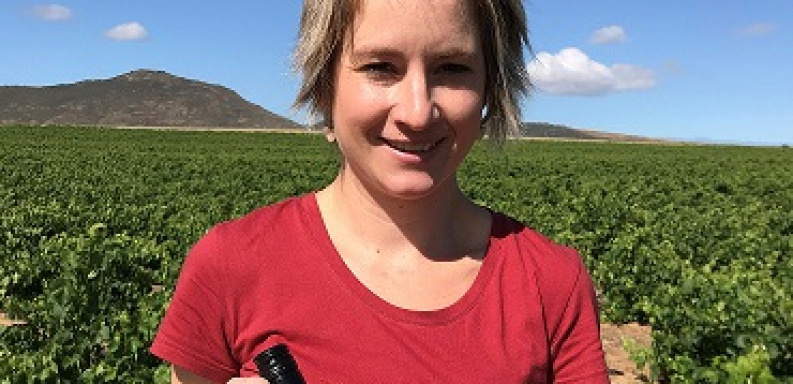 When and where were you born?
1988 - Worcester, South Africa.

Where did you study?
Elsenburg, the University in Stellenbosch.
When did you realise that winemaking is your passion and your future? How were you introduced to the Darling wine region?
I didn't know what to study after school. Just knew that I was attracted to the outdoors and being active by being part of making a product. There is a special/energy atmosphere during harvest that starts the year with great enthusiasm and expectations. It's a proud and inspirational feeling when one of your products wins gold/double gold, for example, at competitions and that motivates you to do even better in the upcoming year. Winemaking is a form of art and also there is no recipe. It's a product that evolves the entire time and there are so many techniques and styles which are still to be learned or obtained.
I was introduced to the Darling wine region just after I'd finished with harvest at Saronsberg and the job-hunting had begun! I was tasting a Sauvignon Blanc from Darling during the week after harvest ended at Saronsberg and the quality and price really pleased me. On that same weekend there was an advert in the newspapers for a winemaker to make white wine in Darling. When I got the call that I must come for an interview I prepared very hard still thinking that I would never get the job, being so young and not having any experience as a winemaker but just harvest experience over 5 vintages.
What do you think is the most challenging part about the 2019 harvest?
From a white wine perspective I hope for more fruit concentration and longevity of wine. I hope that the yields increase and that there is a little stress but not excessively. To ripen slowly with cool nights and developing beautiful characters in skin.
Relaxing at home, what are your hobbies and what do you drink?
I try to be active when possible. I enjoy going for runs and entering trail run races during weekends. I love horse-riding and going out on rides to exercising them. Working in the garden is also an escape for me and I also enjoy going for drives with my husband, looking at vineyards and learning. Obviously wine tastings and exploring different areas with friends is high on my agenda and last but not least, it all has to end with a braai. Obviously white wine is a passion, particularly in the summer and in winter time I enjoy red wine. I also like a nice cold beer now and then.
What's your main focus and goal right now? What would you like to achieve?
It is to obtain as much information, techniques and problem solving skills at critical stages and explore as many different styles of winemaking as possible. Also, I still really want to win the Genl Smuts Trophy at the SA Young wine show. High on my list of things I'd still like to achieve would be to do some harvests and sight seeing overseas in places such as France (Burgundy, Chateauneuf du Pape, Loire Valley, Champagne), Sonoma or Napa Valley, Italy (Piedmont orTuscany) or Germany (Mosel).
What are some of the misconceptions you hear from people regarding wine?
When we're doing wine tastings, people want to know if we've added any flavour components to the wine during harvest. They are also keen to learn the difference between how white and red grapes are treated to make the wine. The long and labour intensive process of producing Method Cap Classic wines is also of real interest.
How would you like people to describe your wine?
I'd like people to recognise good winemaking techniques in my wines. I'd like the complexity to shine through and for them to find lots of layers on the nose, a well structured pallet with generous length on the finish and plenty of ageing potential.
Favourite red and white cultivar?
I have a few favourite red varities that I like. My preference would be a good blend (Rhone or Bordeaux), a phenolic ripe Cabernet Sauvignon is always a winner and lastly Shiraz.
Unsurprisingly I also have a few favourite white wines! I love Chenin Blanc, Sauvignon Blanc, white blends (particularly Bordeaux or Chenin Blanc / Sauvignon Blends). A good Riesling also hits the spot.
Finally, You know the Darling area. How would you say the drought has affected the quality of the wine and the capacities?
From a white wine perspective the wines are a little lighter in general. There's less concentration and longevity. The SO2/ph/Ta will have to be adjusted dramatically in some cases, depending on the quality, as soon as the grapes arrive in the cellar during harvest. Too much stress in vineyards is not healthy and can lower the quality of the wine but hopefully we've avoided putting the vines under too much stress. The amount of time with skin contact will be shortended or no skin contact in some cases will give us better results.