South African Wine Legend: Charles Hopkins
By Malu Lambert | 15th September 2021
"I have a restless soul and a restless mind," says cellar master of De Grendel, Charles Hopkins. We're seated at a wooden table that overlooks the cellar; barrels piled high to the ceiling. I'm trying to interview him, though for the past 30 minutes it's he who is interviewing me. Coupled with his voracious intelligence Hopkins is built like a rugby player (he did play in France as a younger man). He's amiable too, so despite all that formidable presence he immediately puts you at ease.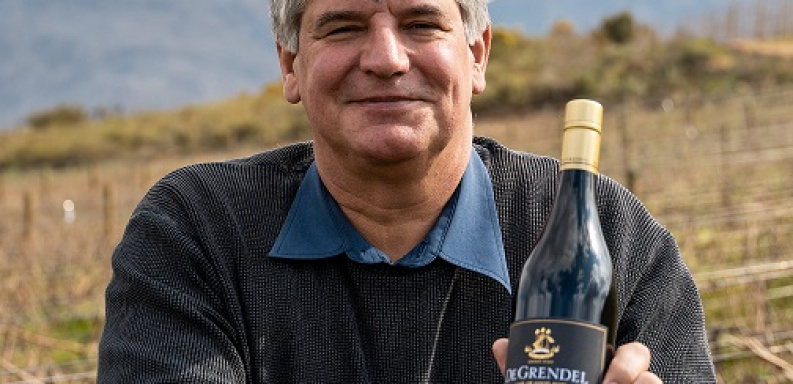 Hopkins has been at Durbanville estate, De Grendel since its inception in 2005 after a 15-year tenure at Graham Beck. Then proprietor Sir David Graaff made him offer he couldn't refuse: to head up winemaking as well as the opportunity to design and build his own cellar. And if you know anything about Hopkins, this was an irresistible proposition. A lifelong student he never stops learning, never stops pushing the envelope.
When it came to the design, he said he looked at the flow of the grapes, from where they come in to where they leave cellar. "The balance of light and air was important to me. Cellars generally tend to be too dark," he shares. "As a winemaker, you almost always inherit a cellar from your predecessor, which comes with a lot of frustrations. But when you design your own cellar, you do what works for you and it just makes you so much better at what you do."
He laughs, "my wife wants me to relax on the beach with her, but I tell her you know much how I could get done in that time?"
Other than his duties at De Grendel, Hopkins is a member of the Cape Winemakers Guild and sits on many tasting panels in particular for the Shiraz, Sauvignon Blanc and Pinotage Associations. Wine education is important to him. There's always something he's obsessing over, for example he's famous for being sensitive to 'greenness' and has conducted experiments in great detail concerning the appropriate levels. He also holds regular study groups and is committed to the upliftment of young winemakers.
He has mentored more Cape Winemakers' Guild protégés than any other Guild member, a whopping 13 have interned at De Grendel with him. He says he's become a bit of an uncle figure to them, and to this day they call him when they need advice.
We continue chatting as we make our way up the stairs to the restaurant for lunch. Wide windows let in the sweep of vineyards, the famous Table Mountain in the distance, perched like a rocky bookend.
His other passion is exploring new and unknown regions. In fact Hopkins was one of the pioneers of the Elim area. Seizing the opportunity as the nationalist government's rules relaxed around viticulture, Hopkins and a group of like-minded mavericks struck out to the Agulhas coast to start a brand called Land's End in 1996 (now owned by Du Toitskloof Cellar).
It's not surprising Hopkins was drawn to the wind-ravaged southernmost tip; growing up in the area he had a natural affinity for its wild, ocean-shaped plains. Born in Somerset West, he grew up in nearby Bredasdorp.
Latterly, he once again looked to the area to make a syrah for De Grendel, achieving his first five-star rating in the Platter's South African Wine Guide for the 2017 Elim Shiraz, among other accolades for the superlative wine.
Constantly looking to scale new heights now comes the maiden vintage of De Grendel Op die Berg Syrah, from grapes grown 1000 metres above-sea-level on the Ceres Plateau. He pours a glass of the inky-purple wine for me; the scent of cherries laced with mountain fynbos, and a thrill of white pepper unspools from the glass.
Growing up Hopkins loved the outdoors and was drawn to agriculture – he found the propagation of plants fascinating. But farming had to wait. After school, a time when rugby featured prominently, he did his two years of compulsory military service. Then finally, he could get his hands stuck into the soil. He enrolled at Elsenburg – and the wine bug bit down hard. "I've been under the influence ever since," he says laughing.
He furthered his education by working two vintages overseas, one in France and one in California, soaking up knowledge from both New and Old World practices. He then joined old Union Wines, now DGB and worked for Bellingham for 11 years, before his time at Graham Beck.
He recalls how his father once spoke to him over dinner when he was younger about the late Sir David Graaff; he had said 'now there's a true gentleman'.
These words came back to him when he first met Sir David Graaff, he asked him being new to royalty: 'How must I address you?' You can call me David, was the reply.
"They are a wonderful family to work for, they have good values and treat everyone with respect."
Family is important to Hopkins, he is very close to his own. "We are very much in each other's business," he shares with a smile. He and his long-time wife live in Paarl and they have two grown children, a son and a daughter, both whom he waxes lyrical about.
Over lunch we trade industry stories, top up glasses and look to the future.
"My goal is to always make true-blooded South African wines. I want the wine to tell a story – it must have personality and a sense of place."