South Africa's Wine Classics
By Jamie Goode | 25th August 2020
I've just been thinking about legacy wineries – those who've made an important difference to their country or region. Wine is a long-term business, and it's these multigenerational wineries who help to forge the identity their region. For South Africa, I thought it would be interesting to compile a personal list of important legacy wineries – ones who have a track record, have been consistently high quality, and have acted as ambassadors of this remarkable wine country. It's very easy to be focusing on the new, and I know I do that quite a bit. But here I'm shining a light on producers who have been around longer. Here are 10 of the best.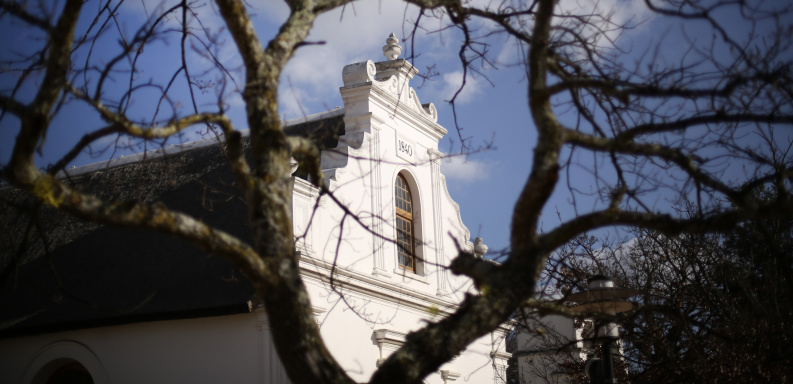 Paul Cluver
I'll begin with Paul Cluver, the winery that pioneered the Elgin wine region. Technically, Oak Valley were the first to plant here with experimental vineyards in 1985, but Cluver planted the first commercial vineyards in 1986, and released the first wine: a 1990 Riesling. Since then they have been making very smart wines, and are one of the few South African producers who have shown a commitment to Riesling. Top of the pile are the Seven Flags Chardonnay and Pinot Noir, two varieties that have found their home here. Paul Cluver Jr, son of Dr Paul Cluver who established the vineyard, is in charge here, assisted by his brother in law and chief winemaker Andries Burger.
Hamilton Russell
And here's another pioneer, also in the hands of the second generation of the family. Back in 1975, advertising executive Tim Hamilton-Russell bought 170 hectares (400 acres) of undeveloped land not far from Hermanus, and only a short distance from the cold Atlantic ocean. And in 1976 he planted a vineyard. This was breaking all the rule, because at the time the South African wine industry at the time was heavily controlled with a quota system. He planted Pinot Noir and Chardonnay, both hard to get, and this is now what Hamilton Russell specialises in. First vintage was in 1981, and for a decade they were the only producer in what is now the Hemel-en-Aarde region. Anthony Hamilton Russel, Tim's son, now runs things, and with a series of highly talented winemakers has turned out consistently exciting and ageworthy wines. Hemel-en-Arde is now an important cool-climate region.
Kanonkop
Buoyed by some very high critic ratings for their Paul Sauer red blend, Kanonkop are on a bit of a roll at the moment. But they have always been good. Since the brand was established in 1973, Kanonkop has had just three winemakers, and Abrie Beeslar, the current incumbent is doing a great job at this exclusively red wine estate, widely respected for its traditional approach. Winemaking is very simple here, in part because it is just a red wine farm. All the wines are treated the same, and are fermented in small open top fermenters: 12 of them take 10 tons each, and four of them take 5 tons of fruit. The fermenting must stays on the skins for just 4 or 5 days before being drained off and the skins pressed. The portfolio is Pinotage, Cabernet Sauvignon, Paul Sauer (a Bordeaux blend) and their most expensive wine, the Black Label Pinotage. Kadette is a second label that comes from younger vines, and some fruit from neighbours' farms. It is aged in older barrels and production is around 700 000 bottles. This is the smart buy here: it can age really well, and it is very affordable.
Meerlust
Consistency, value for money, and ageworthiness are the secrets of Meerlust's success. In particular, their red blend Rubicon, is an absolute belter of a wine that ages beautifully. The estate is based on the fringes of Stellenbosch, and there are just over 100 hectares of vineyards. This is a winery with a history: it has been in the hands of the Myburgh family since the 18th century. In terms of the wine, the story is a little more recent. Meerlust was put on the map by Nico and Giorgio Dalla Cia's 1975 Cabernet Sauvignon, and their top Bordeaux blend, Rubicon, followed in 1980. It was winemaker Giorgio Dalla Cia who made most of the wines that gave this estate its reputation, and if anything that reputation has been boosted by his successor Chris Williams' efforts. The good news is that Rubicon, the top wine, is made in good quantities, so it is relatively easy to find.
Thelema
Back in 2003 when I first visited South Africa, Thelema's wines were some of the most sought-after in the Cape. The only wine left for sale at the cellar door was the Riesling: everything else had been snapped up. The wine deserved their reputation, and they are still just as good – that they don't sell out as quickly now is a reflection of just how many good wines are being made in South Africa these days. Gyles Webb and his wife bought the original property in 1983: it was a run-down fruit farm on the slopes of the Simonsberg in Stellenbosch. The 45 hectares of vineyards under vine are at an altitude of 370–640 metres, and this keeps things relatively cool. The wines are fresh and expressive. Gyles' son Thomas is now involved, and the wines are as good as ever.
De Wetshof
Robertson is a region whose reputation is built on Chardonnay, and Danie de Wet's De Wetshof winery makes a range of very fine Chardonnays from some interesting terroirs. Danie was one of the crowd involved in smuggling Chardonnay into South Africa back in the 1980s when it simply wasn't possible to get it through the official channels. For this, and for the consistency of the wines, De Wetshof deserves a place in this list. Sons Johann and Peter are now involved, and vineyard area is an impressive 174 hectares.
Graham Beck
Methode Cap Classique (MCC) is the name for South Africa's traditional method sparkling wines, and these are currently enjoying a lot of acclaim from consumers and critics alike. Leading the field is Graham Beck, with the talented Pieter Ferreira at the helm. Everything they make is good, and their icon wine, the Cuvée Clive, is very special indeed.
Boekenhoutskloof
Mark Kent's Boekenhoutskloof winery has been around for a while now. In 1997 he made a famous Syrah from a now disappeared vineyard in Somerset West which has gone on to be one of the country's most important historical wines. With an impressive new winery in Franschhoek, the top wines of Boekenhoutskloof rest on the commercial success of wines like the Chocolate Block, The Wolftrap and Porcupine Ridge. This frees winemaker Gottfried Mocke to make thrilling expressions of Syrah and Semillon. New vineyards in the Swartland are now on line, looked after by Callie Louw who also makes the stunning Porseleinberg Syrah.
Klein Constantia
Klein Constantia make excellent wines across the board, but they deserve their place here because of one in particular: Vin de Constance. This late-harvest Muscat wine was first made in 1986, as an attempt to recapture the great sweet wine of Constantia that was world famous back in the 1700s and 1800s: its production stopped with the introduction of phylloxera into the country back in 1886.
Sadie Family
With all his energy and drive, you'd think that Eben Sadie was the new kid on the block. But Eben, who makes South Africa's most sought-after wines, has now got 21 vintages of Columella under his belt. It's hard to over-state the importance of Eben to both the Swartland region, and also the many young winemakers that he has inspired and helped. As well as Columella and Palladius, the red and white blends he makes, he also makes a series of single-vineyard wines from old vineyards around the Cape. He's just handed winemaking responsibility over to Paul Jordaan, and his son is now involved in making the wines too.