Stepping Stones
By Fiona McDonald | 27th April 2022
"You don't have to see the whole staircase, just take the first step." – Martin Luther King jnr
A trip back home to Empangeni, KwaZulu-Natal, during Easter in her first year at Elsenburg College nearly ended Praisy Dlamini's fledgling winemaking career. The star student was just 17 years old, far from home, attending lectures in Afrikaans and feeling very out of her depth. She wanted to quit. It took a maternal pep talk to get her back on the bus to Stellenbosch.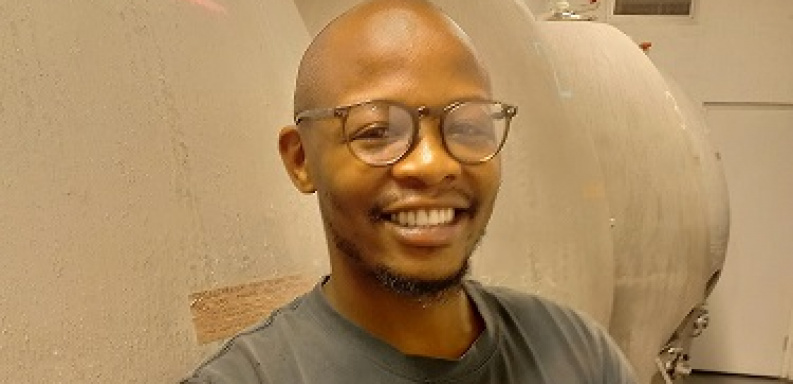 In 2022 that same woman is now the general manager of Adama wines, heading up arguably one of the most successful South African empowerment wine brands, globally recognised for its ethics and intrinsic integrity in worker involvement and transformation. Were her parents prescient in naming their first-born child Sanelisiwe, which in Zulu means "we are satisfied"?
Praisy admits it's been a long, sometimes bumpy road but is adamant that the lessons learned on the Cape Winemakers Guild protégé programme have been invaluable. All of her mentors played a role in not just preparing her for a successful future in winemaking but equipping her with additional skills.
Between 2007 and 2010 she spent a year each with Philip Costandius at Lourensford, David Finlayson at Glen Carlou and finally a sparkling year with Pieter Ferreira at Graham Beck. "To be honest, I think back then things didn't necessarily make sense to me. It's only now that I'm in a management position, having to make decisions, that I can see the benefit of what I learnt then."
Her takeouts were that at Lourensford it was all about teamwork, organisation and planning; at Glen Carlou how everyone had multiple roles to play and being exposed to marketing and sales, pouring wine and engaging with the public while at Graham Beck it was Ferreira's genuine love affair with the bubble, his passion and enthusiasm for never knowing it all that inspired her.
"The protégé programme was a superb foundation – and was a continuation or extension of the basics that you'd been taught. It refined and fleshed out those basics."
That's a refrain which is echoed by other protégés – Rudger van Wyk, Banele Vakele and Mahalia Kotjane, who are at varying stages in their careers.
The CWG protégé programme is now well into its second decade, having been launched in 2006 with the aim of not only transforming the industry but cultivating the next generation of South African winemakers and viticulturists.
The concept is that protégés spend three years interning under three separate mentors, being exposed to different wineries, producers and methods of operation, gaining experience and skills as a solid career foundation.
Stark Condé winemaker Rudger van Wyk is probably one of the brightest stars in the local winemaking firmament, having won the Diners Club Young Winemaker of the Year in 2018.
His protégé journey started at Kanonkop with Abrie Beeslaar in 2014. After processing the initial shock of the two-hourly punchdowns not being an urban myth, he credits the quiet times as his biggest learning moments.
"Having coffee with Abrie early in the morning before the day started really shaped me, not only as a winemaker but as a person. I was able to pick his brain about winemaking and life." Striving for excellence was something Beeslaar drummed into him. His subsequent stints were at Nitida in Durbanville in 2015 because he wanted stretch himself making white wine at a smaller operation and in a cool climate area, and at Stark Condé … but he never left the Jonkershoek property!
A trip to Burgundy for a harvest in 2015 before joining Stark Condé opened his eyes to the broader world of wine. "It was truly inspiring! Being able to travel to Champagne and tasting bubbly from my birth year… incredible! Then seeing the rocky soils of Chateauneuf du Pape and the stunning chateaux of Bordeaux, that exposure was priceless but it was the tasting that really stuck with me. One thing the protégé programme taught me was taste – taste – taste!"
Echoing that statement was Banele Vakele, assistant winemaker at Savage Wines. "Taste – every day. Make time to do so!" He said it's only by learning what the best wines in the world taste like that winemakers can embark on their own journey towards quality and excellence. He's already gained valuable experience subsequent to his three-year protégé stint from 2015 to 2018, working in Oregon in the United States as well as Australia – and returned to assist at Savage while beginning his own label, Tembela Wines.
A powerful memory Vakele recalls is of attending a CWG technical tasting with his then mentor Louis Strydom of Ernie Els Wines. "It was a Bordeaux tasting – and we had amazing wines: Latour 1996 and Margaux 1998." But what he remembers most vividly is Neil Ellis and Etienne le Riche standing up and applauding the wines. "I thought, 'Wow! These men are titans of our industry, truly great red winemakers, and they are still humbled and respectful when it comes to wine.' That impressed me."
"What did I get out of the protégé programme? I learned to push myself, to expect and deliver more and to constantly stretch and improve both my winemaking and my personal skills." The efficiency in the cellar and proficiency in winemaking were obvious, he said, but conceded that it was the other skills which were actually the biggest things learned.
Having been mentored by Groot Constantia's Boela Gerber and then Duncan Savage in 2018, Vakele appreciated the diametric diversity of scale in the two operations. "It was a very holistic picture. The wineries have different requirements because of their size and global market goals, and the personalities of winemakers differed too. Some were very analytical and some more philosophical, but one thing everyone agreed on was quality. I learned a lot from the various winemakers – on all subjects, not just wine. I always knew that the protégé program would be a massive advantage for my career and I just had to make the correct moves to extract the right amount of information."
If there was one arc that Lievland assistant winemaker Mahalia Kotjane recalls from her protégé stint: in 2015 with Louis Strydom at Ernie Els, at Hartenberg with Carl Schulz in 2016 and with John Loubser at Steenberg in 2017, it's cleanliness. "If you work in a clean cellar, that's half the way to successful winemaking. Keep it clean! And it's only now looking back with experience of a few more harvests that I can truly appreciate the message."
Looking back five years late, Kotjane said she was appreciative of being able to extract golden nuggets from her time with each mentor. At Ernie Els it was understanding that as much as winemaking is a craft, it's also a business and needs to be profitable to support a great many people. Commercial success is not a dirty word.
"Syrah is my first love and the exposure to a variety of styles and terroirs that Hartenberg gave me with the grape has been invaluable in the transition that Lievland is currently making, because so much of its history is tied to shiraz."
Being open to new techniques and ideas and playing a role in a dynamic team pushing the Sauvignon Blanc envelope was what she recalled from her time at Steenberg. "That got me thinking about what kind of winemaker I wanted to be and what sort of wine I wanted to make."
Perhaps the final word should go to Dlamini, one of the early protégés: "If I look at Adama, it's a complex operation. Everything I've done so far is coalescing. I need to handle volumes but I need to know what quality is. I have to understand the fruit and what to do with it. We as a team have to plan so that we can accommodate the capacity but with an idea of what the consumer or the end market actually wants.
"There are a lot of things that don't go right, but there's still a passion to want to do it! I wake up in the morning and want to make wine. There's always a challenge to be overcome. By pushing the boundaries and finding solutions to problems you grow as an individual. Growth comes with being uncomfortable, that's how you get to the next level."
Sanelisiwe – we are satisfied.
Fiona McDonald