The 2020 Cape Winemakers Guild Auction
By Jamie Goode | 18th September 2020
Each year, one of the most anticipated events in the South African wine diary is the Cape Winemakers Guild (CWG) annual auction. The CWG, founded in 1982, is an elite club for some of the top winemaking talent in South Africa. You can't apply to join: you have to be asked. Currently there are 48 members. And the auction in question is a showcase of a selection of one-off CWG auction bottlings made by these members.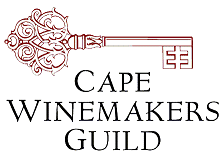 They don't all make an auction wine every year, but many do. This is the place for one offs: perhaps a special experimental wine, or a selection of one of the best barrels from a famous wine that they offer. The idea is that these are high quality, exclusive wines that collectors will desire to buy. The wines are put into a blind tasting by the winemakers who want to enter a wine, and there's a taste off. Together, the guild members decide on which wines will make it through to the auction. Auction lots are limited to 100 cases.
If you want to stay a member, then you need to have an auction wine at regular intervals. Fail to make the grade three years in a row, and your membership can be revoked. This is rare, but it has happened. There is a turnover, to make room for fresh faces. And now some of the founding members are getting on a bit, there are some retirements. Four of the 48 members are now retired but keep their membership.
Initially, when it was founded the Cape Winemakers' Guild was a way for the isolated winemakers in the Cape to share knowledge and taste more widely: at the time, South Africa was just over a decade away from minority rule and the wine community was cut off internationally. In addition to the auction, there are monthly meetings where the members get together to taste, discuss and support each other. And there's also a mentoring aspect where younger winemakers are helped along their journey by more experienced colleagues.
This year, things are different. Because of the Covid issues, the CWG Auction will be held in London, at Bonhams auction house on 3rd October. In the past, all the auctions were held in South Africa. The problems with the shut down and the ban on not only alcohol sales, but also movement of alcohol, has made it tricky for winemakers to produce their auction wines. As a result, just 28 wines are being offered at the auction from the 44 producing members. In addition, there will be a separate Vinoteque auction of previous CWG wines from members' library stock. This will be used to fund some of the protégé program, where winemakers help support young colleagues in the industry. This is online, from 18 September, closing 3 October, the day of the main auction.
The proceeds from each first six pack of wines will be used this year to support Samantha O'Keefe of Lismore, who lost her winery and a significant portion of her vineyards in Greyton to a fire earlier in the year.
I tasted through all of this year's CWG auction wines at a tasting in London in September 2020, and these are my top picks. One of the things I love about the CWG is the span of winemakers that belong. There are those who are making slightly older-school wines, together with some of the young hipsters. It's a nice way of bridging winemaking cultures and generations.
Raats Family Wines The Fountain Terroir Specific Chenin Blanc 2019 Stellenbosch, South Africa
Winemaker: Bruwer Raats. The best barrel of Chenin. This has lovely balance with ripe pear and white peach fruit, a bit of spice, and nice detail. Compact, showing concentration and poise.
Leeu Passant Radicales Libres 2015 Klein Karoo, South Africa
Winemaker: Andrea Mullineux. 100% Chardonnay, long elevage inspired by Jura and Rioja. From the incredibly cool Barrydale valley in the Klein Karoo, after fermentation this Chardonnay was aged in barrel for five years. Concentrated and mineral with lovely spiciness. Very spicy, intense and multidimensional with richness and poise. 96/100
Ataraxia Under The Gavel Chardonnay 2019 Hemel-en-Aarde Ridge, South Africa
Winemaker: Kevin Grant. Lovely freshness here: very fine and vital with a lovely lemony core, but also nicely textured pear and white peach fruit. Lovely mineral core and pure fruit.
Paul Cluver The Wagon Trail Chardonnay 2018 Elgin, South Africa
Winemaker: Andries Burger. From the oldest Chardonnay vineyard on the Estate, planted in 1987 (it's the oldest in Elgin). Wild ferment. Nice complexity on the nose with a delicate lemon and green apple core. The palate has precision, some waxy notes, and a citrus drive. Fine, with a long, tapered finish.
Newton Johnson Family Vineyards Windansea Pinot Noir 2017 Upper Hemel-en-Aarde Valley, South Africa
Winemaker: Gordon Newton Johnson. Stoniest, most clay-rich parts of the vineyard used for this. No sulfites in the winemaking. 11 months in barrel then six months in large oak. Very floral, with red cherry and redcurrant fruit. This has lovely aromatics. Silky and fine on the palate with bright, floral, elegant fruit. Very fine. 96/100
Kanonkop CWG Paul Sauer 2017 Stellenbosch, South Africa
76% Cabernet Sauvignon, 17% Cabernet Franc, 7% Merlot. From Simonsberg. Winemaker: Abrie Beeslaar. Fermented in open top 'kuipe' for six days, then malolactic fermentation in tank, and matured in new French oak for two years. Linear and fresh, and this has swallowed the new oak. Pure blackcurrant and berry fruit with real refinement and nice purity. Primary at the moment with a lot of potential, showing structure and freshness.
Hartenberg CWG Auction Cabernet Sauvignon 2018 Stellenbosch, South Africa
100% Cabernet Sauvignon from the Bottelary Hills. Winemaker: Carl Schultz. 20 days on skins, 20 months in 50% new 225 litre French oak barrels. Good concentration here: ripe and dense with a slight creaminess. Impressive concentration. Ripe and primary with a sweet fruit quality. Lots of potential for this polished, modern wine.
Boschkloof Epilogue Syrah 2018 Stellenbosch
Winemaker: Jacques Borman. Harvested in three tranches, 30% whole bunch. Some matured in concrete, some in barrel (30% new). Lovely aromatics: peppery, meaty and perfumed with brooding black cherry fruit. There's some savory olive character on the palate with sweet black fruits to the fore.
Luddite The Lone Stranger Mark II 2018 Bot River, South Africa
50% Mourvèdre, 40% Shiraz, 10% Grenache Noir. Winemaker: Niels Verburg. Small open fermenters then pressed to barrel for two years. There's some lovely flesh to this wine: it's rounded with a nice silkiness to the bold, ripe fruits. Combining power and elegance, this is very fine.
Delaire Graff Estate Banghoek Cabernet Franc Cabernet Sauvignon 2016 Stellenbosch, South Africa
55% Cabernet Franc, 34% Cabernet Sauvignon, 8% Petit Verdot, 3% Malbec. Winemaker: Morné Very. Whole berry fermentation with limited punch downs. Four weeks post-ferment maturation on skins before being basket pressed. Matured in 40% new French 225 litre barrels for 16 months and a further 45 months in bottle. This has freshness. It's supple and quite elegant with a gravelly edge to the blackcurrant and black cherry fruit. Polished.
Boplaas Cape Vintage CWG Reserve 2015 Western Cape, South Africa
80% Touriga Nacional, 10% Touriga Franca, 6% Souzão, 4% Tinta Barocca. Winemaker: Carel Nel. Fermented and fortified in small lagares and barrel matured in large seasoned oak barrels. This is bold and powerful; sleek and elegant. Sweet, floral and quite luscious with great purity and some liquorice, mint and spice. Lovely depth here: just gorgeous.