The 2021 Cape Winemakers' Guild wines
By Jamie Goode | 21st September 2021
October 2nd sees one of the important dates in the South African wine calendar. It's the 37th annual Cape Winemakers' Guild auction, sponsored by Nedbank, and as with last year, it will be held at Bonhams auction house in London, and online. I have just tasted through some of the auction wines, and come away impressed. While the Guild is very well known in South Africa, and these auction bottles, with their distinctive labels, are a fixture in many collector's cellars there, it deserves to be better known internationally.
Back in 1982, when the Cape Winemakers' Guild was first formed, the South African wine scene was very different to how it is today. It began as a way for isolated winemakers in the Cape to share knowledge and taste more widely. The inaugural meeting consisted of just five winemakers tasting through all five Bordeaux first growths. Since then, the CWG has grown, the South African wine industry has matured, and it is now a multifaceted winemakers' association. As well as the high profile auction, there are monthly meetings where the members get together and taste and discuss (and maybe drink, too?). And there's also a mentoring aspect where young winemakers are helped along their journey by more experienced colleagues: the Protégé Program.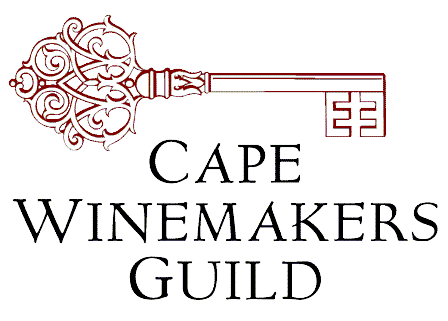 This is in effect a private club for winemakers. To join, you have to be invited, and as their website says, 'any person who has been recognised by the CWG as a winemaker of outstanding wines for a minimum period of 5 years can be invited to become a Member.' There are also two other newer categories of membership. The first is non-producing members (basically members who have stepped away from frontline winemaking, such as through retirement) and also a category for Honorary Members who are folk who've served the industry well.
The members don't all make an auction wine every year, but some do. The idea is for them to produce one-offs, small production wines with a maximum of 100 cases. In the past these wines would often be barrel selections of the best in the cellar. Now they are more likely to be wines that have given creative rein to their talents, and something different from the wines in their regular portfolio. The members submit their wines and they are put into a blind tasting: together, the guild members decide on which wines will make it through to the auction.
Members can, in exceptional circumstances, have their membership revoked, and there is a requirement to have an auction wine every three years. This stops the system being clogged by inactive members.
So which wines stood out for me this year?
I was really impressed by the debut wine from Samantha O'Keefe of Lismore. This is a blend of Chenin Blanc and Viognier, but the Viognier dominates, giving beautiful apricot and pear aromatics. A really exotic but beautifully balanced wine.
The Boschkloof Epilogue Syrah from Jacques Borman is one of a strong line-up of Syrahs. This had a thrilling perfume of meat and dried herbs, with floral aromatics, and the silkiest and smoothest of ripe red fruit palates.
Marc Kent's Boekenhoutskloof Syrah is a thrilling wine, and one of the stand outs in the auction this year. It's all about the balance: this is a really expressive, pretty Syrah, with floral olive tapenade and cured meat and pepper notes adding interest and varietal typicity.
And Duncan Savage's Syrah – a whole bunch fermentation from Swartland fruit – is a complete example of Syrah, offering freshness, detail and power. It's a lovely wine with some potential for development.
Morné Vrey of Delaire Graff has produced a pair of wines that are probably worth buying together and then ageing for a decade. One is a Cabernet Franc-dominated Bordeaux style blend, while the other is dominated by Cabernet Sauvignon, and they are both beautifully defined with really nice fruit and concentration. The Cabernet Franc-led blend is a little more perfumed and expressive now, but it would be interesting to see how they compare after time in the cellar.
Chardonnay is a strength in the western Cape right now, and three examples stood out as top wines. Kevin Grant of Ataraxia in Hemel-en-Aarde is a specialist with this variety, and it's no surprise that his auction wine is a stunner. Then there's another from Hemel-en-Aarde, from Gordon Newton Johnson, also showing the strength of this region paired with this grape. And another cool climate region, Elgin, is the source of the lean, taut stunner from Andries Burger of Paul Cluver. All three are serious wines with potential for development.
One of the most hotly sought-after wines in the auction this year will be the Kanonkop Paul Sauer from Abrie Beeslaar. It's 2018, so it's just a baby, but it shows concentration, power and a lovely linear focus to the fruit, and will no doubt age for a couple of decades, and perhaps longer. Abrie has another stunning wine, too: the Kanonkop Pinotage, and this is one of the finest examples of this variety around, with lovely focus and definition. Again, it's one for the cellar.
Switching gears completely, there were three nice Pinot Noirs in the auction tasting, all quite different. Charles Hopkins of De Grendel has pulled off an elegant stunner with his wine, which is all about finesse and weightlessness. In contrast, Peter Finlayson's Bouchard Finlayson has that lovely Hemel-en-Aarde structural grunt, and should evolve very nicely. And then Gottfried Mocke has produced a very distinctive example with a core of sweet fruit that offers amazing texture and harmony.
Finally, a couple of alternative varieties caught my eye. There's the Tempranillo from Warren Ellis, which is all about taut, linear red fruits, and compact structure. Then there's the Mourvèdre from Sebastian Beaumont, which is made with whole bunches and shows definition and power.
I'm aware that there are other superb wines that I've not mentioned here, but overall this is an exciting crop of auction wines, showcasing the diversity of wine in the Cape right now.