The Copper Crew can it!
By Admin | 8th October 2020
The Copper Crew is a relatively new company which was founded by two best friends who happen to both have ginger hair! Working with an acclaimed South African wine producer, they create high quality wines in cans to be enjoyed anywhere, anytime... and by anyone.
Canned wine is becoming increasingly popular as they not only provide the ideal serving size, they offer many environmental plus points which are highlighted on The Copper Crew website too.
The wines have received very positive reviews from journalists, MWs and bloggers who have tried the fresh and vibrant wines from South Africa. With both a Chenin and Rosé making waves, it was time to launch their Merlot which hit UK shores this month.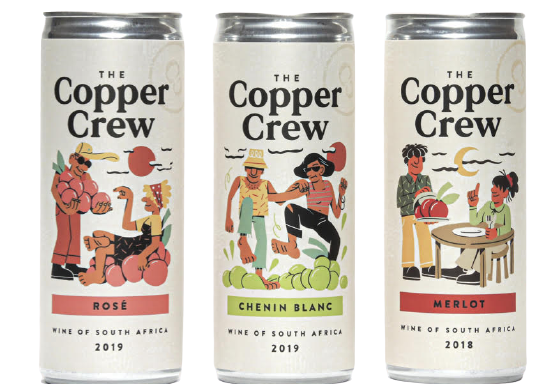 The three wines to choose from are highlighted below or you can, of course, buy a mixed case.
Rosé
The award winning Rosé is made in Western Cape. It's a blend of five Rhône cultivars and modelled on a Provençal pink. It has notes of strawberries, cherries and peppercorns. Pale salmon in the glass, it has juicy aromas of ripe red cherry and plum, followed by a hint of baking spices (clove and cinnamon) and delicate floral undertones (violet). The wine is medium in body, displays crisp acidity which lends freshness to the palate and resolves in an almost saline finish.
Chenin Blanc
The Chenin Blanc is a delicious, refreshing white wine which is picked, blended and canned all in the Western Cape. An award-winning wine with flavours of peaches, citrus (grapefruit, oranges) and meringues. A real crowd pleaser! Pale gold in the glass. It has aromas of lemon meringue and passionfruit, lifted by citrus (orange, grapefruit), and melon notes. A textural wine – initially chalky, followed by a touch of leesy richness, cut by a zesty lemon/lime acidity. Richness gives way to zestiness, resulting in a long, pithy finish.
Merlot
This merlot is a fruit driven red from the Elgin region. Matured for 24 months in 225L French barrique to soften the tannins, enhance complexity and ready the wine for drinking whether from a can or glass. This is the newest product in the Copper Crew range. A drought vintage with tiny, concentrated berries, the wine is a deep ruby colour. Upfront with fruit, notes of juicy cherry and ripe blackberry are dusted with cocoa. Medium-plus in body, the palate's fruity core tends to liquorice, dark chocolate and tobacco. Pronounced length with fine grained, velvety tannin.
You can purchase these wines from the Copper Crew website here.