The Pebbles Project Drives Change
By Tšepang Molisana | 20th April 2022
The Pebbles Project aims to uplift individual lives and reach the greater community
In 2022, Creation Wines dedicated the proceeds of its Cape Wine Auction lot to The Pebbles Hemel-en-Aarde Education Project. Established in 2014, the Cape Wine Auction Trust was established to raise funds through the Cape Wine Auction with the aspiration to support education in the Cape winelands.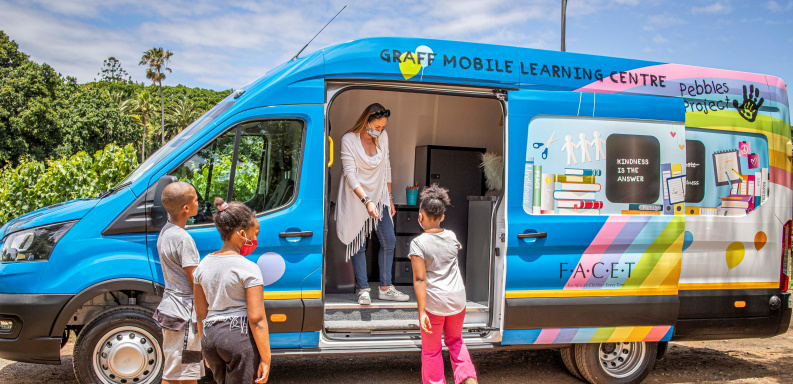 Creation Wines is a founding member of the Pebbles Hemel-en-Aarde Education Project. Their auction lot in 2022 included sought-after experiences in South Africa and France, with the desire to support the broad vision of enriching the lives of the community's children, through education.
Beyond fundraising, farm owners reach out to Pebbles to implement their programmes for the communities and workers living on farms. Programmes are run from farm buildings, farms pay a nominal fee to Pebbles to help run the programmes and often also employ the teachers working in the centers. Funding for Pebbles is also received from wine industry-related businesses – producers, importers, retailers, logistics companies and individuals.
The collective vision that permeates through the Pebbles Project, throughout the Western Cape has remained similar since it was founded in 2004.
Rachel Ward da Costa, fundraiser for the Pebbles Project explains: "Pebbles was initiated upon noticing the growing need for quality education on farms in the Western Cape. Prior to the existence of the Pebbles Project, children in agricultural communities had little to no early childhood development (ECD) education. In addition to this, many children live in challenging circumstances with high levels of financial and social deprivation."
Rachel cites the distance of farms to towns and limited transport as additional factors that affect the educational progress of children living on farms. The Pebbles Project endeavours to bridge the gap between these children and their peers before they enter formal education by partnering with farm owners to offer support to farm pre-school facilities.
"In 2003 Sophia Warner, founder and CEO of Pebbles Project, came to South Africa from the United Kingdom with a 13-year background in special needs teaching," Rachel explains.
Sophia's intention was to not only build a life for herself and her own children but to reach children connected to the South African Wine Industry.
"Sophia founded The Pebbles Project in 2004 with the main emphasis on children with Foetal Alcohol Syndrome Disorders (FASD). After a lot of research, our project scope grew to support the development of every child, regardless of his or her ability or disability,"
Due to what Rachel describes as 'the ramifications of the dop system', the Pebbles Project tracks the progress of each individual child. Rachel explains: "when a child demonstrates a barrier to learning or a specific learning disability, we put in place the relevant support system for that child."
"The Pebbles Project implements and runs Early Childhood Development centers (ECD's) for children from 0-5 years. When children enter formal government schooling, they attend the Pebbles After School Club where they receive homework support, partake in extramural and sport activities and receive mathematics and literacy support. Once they have completed high school, we assist them in finding a job placement or studying further at tertiary institutions," Rachel says.
Because of Boland College's proximity to farms, several students have elected to complete their tertiary education there. For instance, Sandra Spogter studied hospitality at Boland College and currently works as a Commis Chef at Bellevue Wine Farm. In addition; Jamie-Lee Plaatjies studied the Educare Level 5 course at Bergzicht Training Centre and currently works for the Pebbles Project as a Grade R Facilitator.
The Pebbles Project works on 40 farms across 5 geographical locations (Stellenbosch, Wellington, Citrusdal, Hemel en Aarde and Grabouw). There are over 1,400 direct beneficiaries with 124 teachers.
Beyond education, the Pebbles Project has endeavoured to support the mental health needs of its communities. The mental health bus is funded by the FACET Foundation and was implemented in December 2021.
"Pebbles has a team of 3 social workers who work with the communities to support them through difficult times and ensure that children and adults are safeguarded from harm. Needs that are addressed include: neglect, abuse, family relationships, behavioural problems, and substance abuse. Pebbles provides support and help in order to promote social change, development, cohesion and empowerment," Rachel says.
"The mental health bus is a safe space for the clients and social workers to meet and conduct their counselling or therapy sessions. Often times the buildings on the farm are noisy and crowded so Pebbles wanted to create a calming space for children and adults to access the social work services," Rachel continues.
"The ultimate goal of Pebbles is to help children reach their full potential. Pebbles aims to leave a legacy of access to opportunities for farmworker communities, and ultimately contribute to society and in turn support others less fortunate than him/herself," Rachel says.