The Pioneers
By Jamie Goode | 11th October 2023
Many wine regions worldwide owe a debt to pioneers who first made the choice to plant vines for the first time in what was at the time a new area. Think about New Zealand's wine regions. Now, Central Otago, Martinborough, Waipara, Nelson and the largest region by far, Marlborough, are well established. But 50 years ago these didn't exist. That's not long in wine terms. Marlborough and Nelson were established in the early 1970s, while Waipara Central Otago and Martinborough were first planted in 1980s. At the time, many of these first plantings were regarded with scepticism by the larger industry: it takes people who are just a little bit crazy to commit to projects against the best advice of all their peers, but dynamic wine industries need some risk takers.
This is certainly true of South Africa. I recently attended a vertical tasting of the wines of Sijnn, which to date is the only vineyard planted in the Malgas region, where vines first went into the ground in 2004. The wines are quite beautiful, although no one else has gone there to this rather remote area and joined them. This got me thinking about some of South Africa's other pioneers. In living memory there are quite a few regions that have been established and are now thriving thanks to the work of pioneer winegrowers.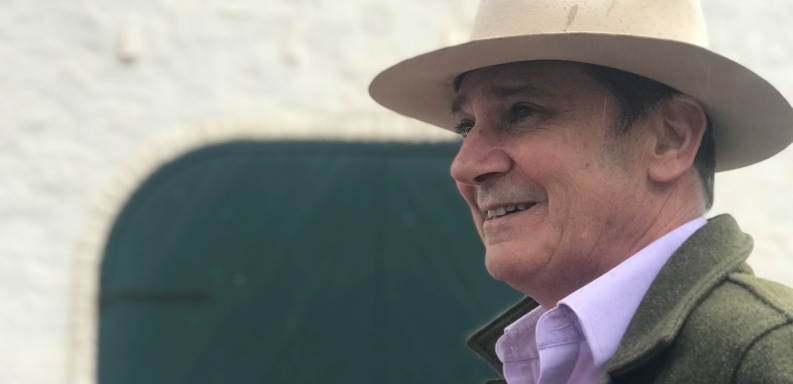 One of the most remarkable of these stories is that of Hamilton Russell, who set up at a time when the wine industry in South Africa was under the control of the KWV and people weren't free to plant where they wanted. Back in 1975, advertising executive Tim Hamilton-Russell bought 170 hectares (400 acres) of undeveloped land not far from Hermanus, and only a short distance from the cold Atlantic Ocean. And in 1976 he planted a vineyard. Viewed from the perspective of the South African wine industry at the time, which was heavily controlled with a quota system, this was utter madness. Among other varieties, he managed to get some Chardonnay vines (which were very hard to come by at the time), and some Pinot Noir (also rare), and he pioneered what is now one of the most exciting wine regions in the Cape: Hemel-en-Aarde. A few years ago, I tasted the first Pinot Noir that he made, the 1981 vintage. It was still holding up beautifully. For 10 years this was the only producer in the region, until the Hamilton Russell winemaker Peter Finlayson courted some investors and established Bouchard Finlayson. Hemel-en-Aarde is now well established as one of the top cooler-climate fine wine regions in the Cape, home to some very exciting winegrowers such as Newton Johnson, Creation, Storm and Restless River, to name but a few.
Another cool climate wine region that didn't exist 35 years ago is Elgin, which was then all about Apple farming. Paul Cluver was the key pioneer here, although Oak Valley had the same idea and had already planted a small experimental plot. Dr Paul Cluver, a leading neurological consultant, planted vines here in 1986 as the first commercial planting. 'Everyone thought we were crazy,' he said, because at the time apples were the main crop in the valley, and they were commercially successful. In the late 1990s, though, it was a tough time for apples and lots of second and third generation family farms ended up being sold. So, grapes became more widely planted. Now, things have changed, and apples are once again highly profitable – so much so that some significant vineyards have been ripped up. The first commercial release from Elgin was the Paul Cluver Riesling 1990. While their Rieslings have been consistently excellent, this grape variety isn't an easy sell in South Africa, and Elgin has since established its reputation for excellent Chardonnay, some very interesting Cap Classiques (traditional method sparkling wines) and some stylish Pinot Noir.
Another cool-climate region that is developing nicely is Cape Agulhas, on the south coast. The cold ocean and the winds that come off it keep this region, which includes Elim, nice and cool during summer with average temperatures around 20 C. The soils vary a bit, the key component is koffieklip, which is a sort of decomposed sedimentary rock with a high iron content, also known as ferricrete. Johan de Kock, a farmer, was the pioneer of winegrowing in the Elim region when he planted vines on his property at the encouragement of friends in the industry. Along with a small group, he formed a syndicate—Land's End—that planted the first 15 hectares of vines in the Elim ward in 1996. It proved quite tricky to work in this new region, and eventually Land's End was sold. But there's been a slow growth of winegrowers attracted to the region's cool climate, and some impressive wines have emerged.
And then there are areas that have been pioneered by just one wine farm. The already mentioned Sijnn in Malgas is one. Another is Greyton, where the resourceful Samantha O'Keefe built up a spectacular wine farm in the middle of nowhere, which she has been running single. She bought the farm in 2003 and began planting the following year. In 2010, drought hammered the vines and there was hardly any crop. Then in 2019 a fire destroyed the winery and many of the vines. But the results are spectacular. When you see the soils and aspects here, though, you realize the appeal of this place: these are bony vineyard soils that look ideal for high quality viticulture.
Cederberg is another example of a one-wine-farm region. This is a remote, mountainous area where the Nieuwoudt family have a large farm. They planted table grapes in the 1960s on the recommendations of a friend who worked for the fruit board, and then in 1973 planted some grape vines. The first wines emerged a few years later, and now there are 74 hectares of vines here including some highly sought after Syrah.
Finally, let's not forget where South African wine began. The true pioneer was Jan van Riebeeck who planted the first vines in South Africa in 1655. Then, on 2 February 1659, the first wine was made from these grapes.