Winemaker from Kwa-Zulu Natal walks an unparalleled path
By Tšepang Molisana | 29th June 2022
Thornton Pillay works as a winemaker at The Drift Wine Estate, Black Oystercatcher and Bruce Jack Wines. Thornton is a pioneer.
"Being the first South African winemaker of Indian origin is at times overwhelming - there was a time in my life that I couldn't see this being possible. I see this as part of a giant leap for transformation in South Africa," Thornton says.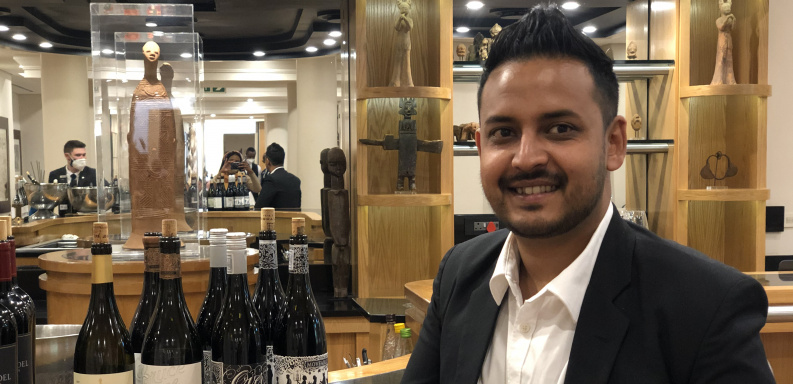 "I intend to use this as a platform to motivate young people who feel that there are barriers to their prosperity in our country. With good thoughts and the right actions, any dream can be a reality," Thornton says of his unparalleled path.
In Durban, Thornton's parents, Sagie and Yasmin worked in the fruit and vegetable distribution sector, which Thornton says inspired him to value discipline and hard work.
"My father later went on to farming vegetables. Accompanying him to the farm and assisting him there, is what attracted me to the world of agriculture. I loved the environment, its challenges and working with my hands. This motivated me to enroll at Weston Agricultural College, where I completed matric," Thornton says.
As a student at Weston Agricultural College, Thornton was introduced to the wine industry.
"All along, a grape was just a fruit. Little did I know, it could be transformed into a unique piece of art in the form of wine. I was perplexed by the entire process of producing wine and decided to do more research regarding this profession," Thornton says.
His research endeared him towards winemaking as a career. During his matric year, he was awarded a Bursary through the Department of Agriculture, Forestry and Fisheries for a Bachelors Degree in Viticulture and Oenology.
Moving to the Western Cape presented unprecedented problems for Thornton. He says: "financially, it was difficult at times and I did not have a vehicle to get around until my final year. I completed my bachelor's degree within 3 years, with the majority of my lectures being delivered in Afrikaans. The cultural and economic differences were palpable. But in retrospect, those difficulties have shaped me into a mature and innovative winemaker, with an appreciation for hard work and humility."
"My spirituality remains the central force that drives my decisions and actions. Through arduous times I keep my faith and trust in God. I have a wife and family that has been supportive of me through every challenge I faced," Thornton says.
Thornton's success at Elsenburg Agricultural College was succeeded by a tenure as a Cape Winemakers Guild (CWG) Protégé.
Thornton was mentored by renowned winemakers as part of the CWG Protégé programme. He worked alongside Louis Strydom at Ernie Els Wines and Boela Gerber at Groot Constantia.
"My experience as a CWG Protégé was great; it was the starting point and foundation for my career as a winemaker. Having been mentored by some of South Africa's most renowned and knowledgeable winemakers was by far the best experience any young graduate would appreciate. Working physically in the winery in every aspect from berry to bottle has helped me grow from strength to strength as a winemaker, and has ultimately led me to creating my very own brand with my Wife Lee-Ann, called Thornleigh," Thornton elaborates.
During the pandemic, Thornton and his Protégé peers auctioned their wines, including Thornleigh, in order to contribute towards the programme and its endeavours to uplift future aspirant Protégés.
"Thornleigh was started by my wife and I in 2020. It is a celebration of love, commitment and staying true to who you are. We are proud of the journey we started 10 years ago, of our culture and where we have come from. Wine can be enjoyed by anyone, regardless of who you are or where you are from," Thornton says.
Subsequent to completing the CWG Protégé Programme, Thornton worked as a winemaker at KWV, he worked a harvest in Burgundy then returned to Kwa-Zulu Natal (KZN), where he worked at Highgate Wine Estate as the head winemaker and viticulturist.
"Bringing my skills to KZN and producing wines in a summer rainfall region was challenging, but ultimately worthwhile. This gave me the opportunity to see the wines through from berry to bottle. Producing wine in my home province was an honour. It taught me an abundance of career and life lessons. The greatest joy I had was sharing the finished product, an estate wine, with fellow wine lovers and consumers from KZN," Thornton says.
"Working in a variety of regions (Western Cape, KZN, France) has encouraged me to always think broadly and apply my knowledge in difficult situations. I was fortunate to work at various wineries that produced wines from their estates, and also during my year at KWV, I was grateful to have made wines from grapes that were bought in from various regions. This helped me understand how to work with the individual fruit that comes into the winery and ensure that the best expression (terroir) of the fruit is shown," Thornton says.
Working on the storied Bruce Jack brands, since 2020, alongside the prolific poet, Bruce Jack, has given Thornton the opportunity to harness his personal and professional history and heritage.